The little Aussie battler (AUD) is boxing above its weight. AUD/USD is up 8% since the January lows in what many analysts see as a corrective rally against the longer term down trend for the pair. The co-incidence of an approach to major resistance and the potentially game-changing release of non-farm payrolls this session has traders adding two and two to get "sell".
Stronger commodity prices supported the AUD over the course of the week. However, many view these energy and metals moves as a return to balance rather than the beginning of any up trends, meaning the AUD boost may be coming to an end.
After surging higher in 2015, the USD weakened from the start of the year as fears for global growth gripped markets. Last month's NFP disappointed severely . A  possible market positive out of the miss is the resetting of expectations for this month. Consensus is sitting around 195,000 new jobs, well below most of last year's monthly readings above 200,000. A positive surprise on jobs could see USD strengthen immediately.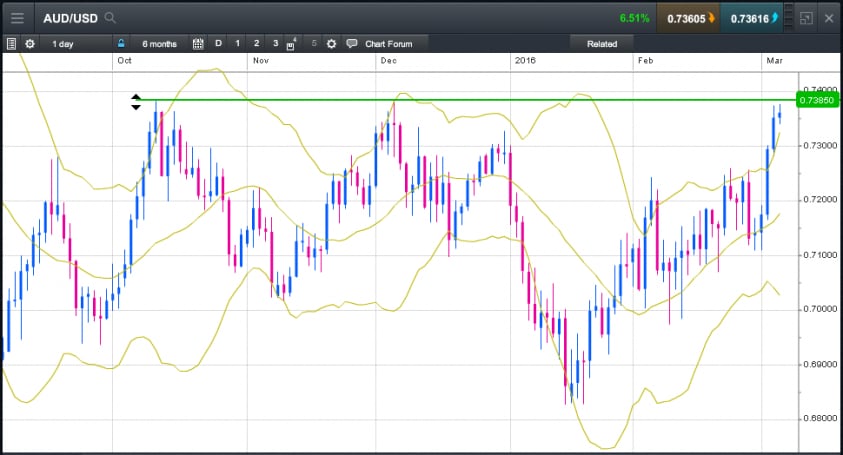 The chart shows the pair is flirting with the resistance at 0.7385. Traders may take different tacks. Some may wait for a confirming signal, such as a reversal candle or reversion through the top Bollinger Band. However, others may see the risk of a stop out worth taking to capture a larger chunk of any down moves.
This may mean selling at current market, with a stop above 0.7385 (say, 0.7425), potentially targeting the recent daily lows around 0.7110.