CMC Market's Election Sentiment Index (ESI) declined further to a new low this week as the Federal campaign dragged through its fifth week. 
The ESI started the week on a high after a bounce back in confidence to finish the previous week. It's tempting to speculate that the substantial rise at the half way mark of the campaign reflects rising investor optimism at the prospect of a three-day long weekend break from the political cycle.
This week, investors appeared to react with dismay to pork-barrelling in marginal electorates announced by both major parties. Rank political populism rarely plays well with investors, and the weakness in the ESI suggests this may have dominated market thinking this week.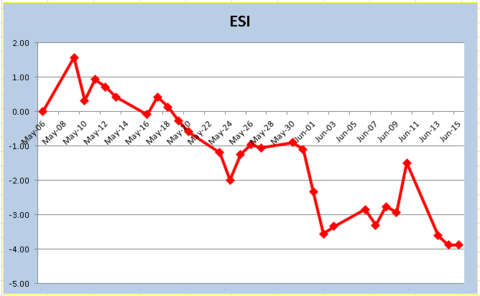 The CMC Markets Election Sentiment Index (ESI) examines the performance of the Australian share market during the 2016 Federal Election campaign. In stripping market factors, the ESI singles out the impact of shifting political currents on Australian market thinking. When the ESI moves higher, Australian investor sentiment, as measured by the share market, is improving. Conversely, negative moves for the ESI suggest the election campaign is weighing on stocks.
The first Australian double dissolution election since 1987 means that control of both houses of parliament is up for grabs. This makes policy intentions more important than usual, as a persuasive argument to the Australian people could result in a strong electoral mandate.
How does the ESI work?
Kicking off on May 9 (the first trading day after the Governor General's declaration) the ESI compares the performance of the Australian share market to international benchmarks. The ESI takes the daily performance of the Australian share market, and strips away performance drivers such as global stock sentiment and commodity price moves. What's left are the specific Australian factors. This means the ESI reflects the impact of the slings and arrows of the election campaign on investor sentiment.
Change in calculation. The ESI calculation has changed.  Originally calculated as an oscillator around the zero point, it now shows the cumulative impact of the daily fluctuations.