Will the prospect of a 2nd quarter Fed rate hike drive more gains in the the $US? If so we should see more risk off selling into Easter and next week. This will take commodities and commodity currencies lower. If not a consolidation bounce looms.
Here's a short term chart that with well defined support and resistance. It might provide a set up for either the risk off scenario or the bounce scenario.
AUDJPY 4 hour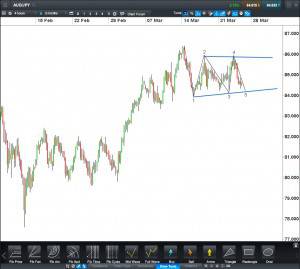 AUDJPY CFD 4 Hour
Click to Enlarge
This looks like a pretty well defined triangle. There's a reasonable chance that the direction of the break out of this pattern will define the next new trend.
Risk Off
Dollar strength and commodity selling should lead to Aussie weakness. The risk off set up would selling on a clear break below the triangle support. That could see a  deeper correction of the last major uptrend. A stop sell order with boundary would be a typical strategy. This might be placed decently clear of the support to reduce the risk of a whipsaw false break
Buy trade
If things calm down, we could see AUDJPY reject this triangle support for a third time. This often happens and would set up for a test of the resistance or even better a break through the top of the triangle.
The support rejection might come in the form of a neat bounce off the trend line. However, a bounce after a minor false break would also qualify.
There's quite a bit of resistance not far above this triangle. This is shown on the daily chart below. The resistance extends up to the 200 day moving average around 86.90. Traders can investigate whether buying off this support with a close stop and a target of an initial move to this resistance zone is good enough risk reward for their strategy.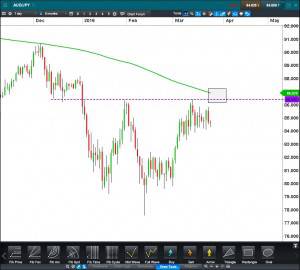 AUDJPY Daily