Philipp Pfitzenmaier
West Texas Crude Oil - the US benchmark for oil futures - has been trading in a $10 range for most of 2016 and 2017. A brief breakout to the upside at the beginning of the year was short lived and created a level around the $55 mark and price then retested the lower end of the range soon afterwards. However, there are signs of an uptrend beginning to reassert itself.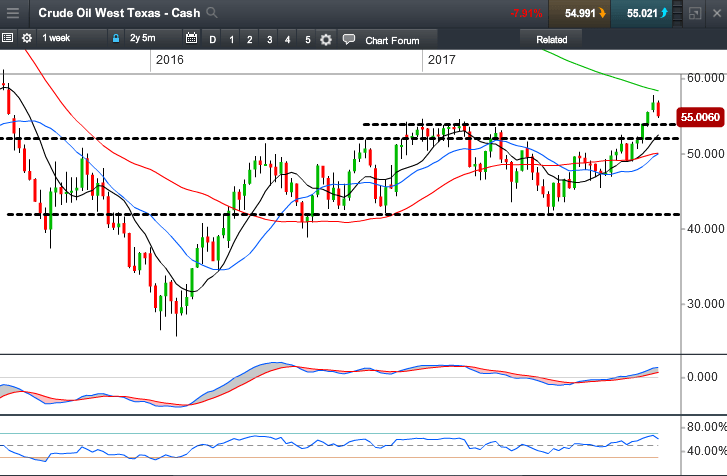 The 42-52 range is clearly visible on the weekly chart above. However, in October price broke out of this trading range and moved beyond. And the moving averages on the weekly chart have now started to fan and new higher highs and higher lows have established an uptrend outside the boundaries of the previous dominant range.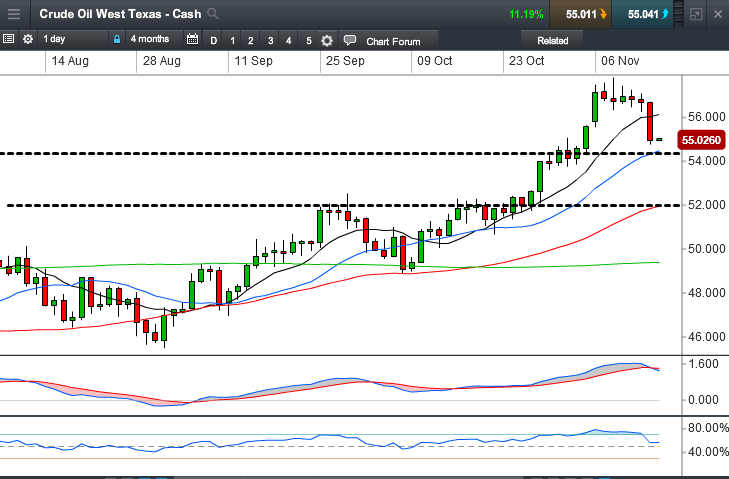 The daily chart shows a clear uptrend with a beautiful moving average fan and good convergence in our MACD and RSI indicators. The 55 level is currently located conveniently in close proximity to the 20 period moving average, defining the lower end of the buy zone. Price is currently pulling back into the buy zone and a small bullish candle in the zone could create a potential trendflow long trading opportunity.
The icing on the cake would be if the low of that potential trigger candle was below the level. This would add further protection to the stop loss location, making it a little bit less likely for the position to be stopped out.
Will the bears drill deep enough for a sweet setup to form for crude? Only time will tell. But as they tell the roustabouts on the rigs, the key thing to focus on is safety first. Make sure you stay with your personal trade setup checklists, manage your risk and remain focused on flawless execution. Happy drilling.