Last night, the ECB signalled its perfectly sensible intention to wait until it has a clearer picture of the economic impact of Brexit before adding more stimulus. The Bank of England recently adopted a similar position but was a bit more forthright about the likelihood of acting at its August meeting.
This ECB hesitation has halted the momentum of recent US Dollar strength. It was assisted by a BBC interview with Bank of Japan Governor Kuroda where he said the BOJ was not planning to use "helicopter money" stimulus.
Flash PMI data. We have not yet had much economic data on what impact the Brexit vote has actually had on economic activity. Tonight's  Flash PMI data will provide some early insight. These indices are designed to provide an early read on manufacturing conditions around the world during July. Weak data will add to the case for more stimulus by the BOE and ECB and a delay to any Fed tightening. Strong data suggesting Brexit hasn't actually affected things much will increase the chances of a Fed hike this year and be bullish $US. Markets will also focus on any differences between the economies.
EURUSD chart.  The Euro might be completing a double bottom pattern at the 78.6% Fibonacci retracement level. This coincides with a harmonic AB=CD pattern. A move above the double bottom resistance would complete the pattern setting up for a potential rally.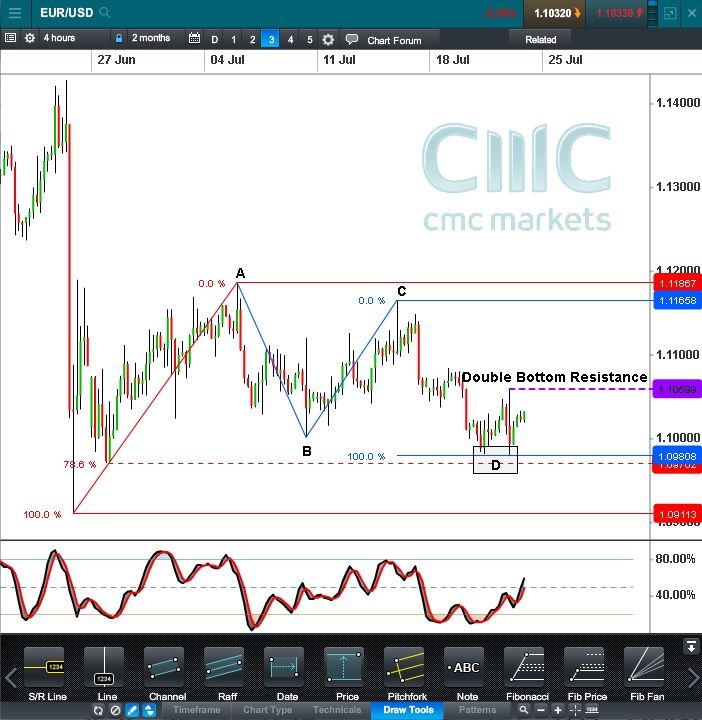 Gold chart. Gold made a low yesterday very close to the 38.2% Fibonacci retracement and previous support. If it closes higher today, we will see higher lows and higher highs. This could set up for a correction of the decline from $1375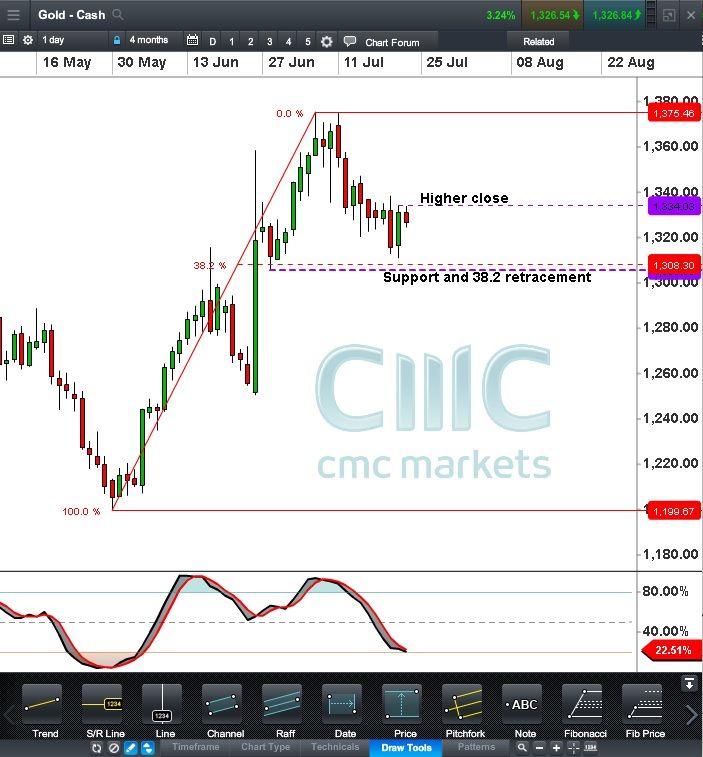 Newcrest Mining chart. Gold miner Newcrest bounced off the 61.8% Fibonacci retracement level today. However it finished near its open making an indecisive Doji candle. More strength on Monday would make a rejection of the 61.8% level a bit more likely.