So U.S and Asian traders had a totally different take on what President Trump will mean for markets and the result was a stunning turnaround on yesterday's carnage.  Does that mean we are about to embark on the next leg of the bull market? I'm not so sure. More evidence might be required. If US markets show signs of losing momentum, I'll be looking for short term selling opportunities.
To summarise my understanding of the major elements of the Trump is bullish for stocks theme, they are:
His policies will involve a large dose of fiscal stimulus in the form of tax cuts and spending on infrastructure and defence.
This will not only help corporate profits but will be inflationary, supporting the US stock market and commodities
Cuts to corporate tax rates will also be good for stock valuations
Trump supports less regulation which will be a plus for corporate profits
He wants the US to be energy independent and will probably not be a major climate change advocate. This will be good for the oil and gas industry.
Some traders are betting (hoping), that President Trump will back away from some of his trade policies which are seen by many as a major negative for growth. However, ultimately protectionism is inflationary and this could benefit at least some parts of the US stock market.
While these factors could certainly combine to drive stocks higher, there are a few reasons to be cautious right at the moment:
US stock valuations are starting from a relatively high base.  The forward PE on the S&P 500 is 18.2 compared to an average of 17 over the past couple of years
The Fed is likely to hike rates in December. Bond yields and the US Dollar are both rising which are potential headwinds for stocks
In a truly inflationary environment, it is likely that bond yields, the dollar and stocks can all rise at the same time. Right now though, we've just got the rising bond yields and $US part of the equation and that could unsettle stock markets. There are queries over how much inflation will actually follow, especially given the negative impacts of ageing populations and high unemployment in many economies.
Significant doubt remains about the detail of President Trump's policies and what will actually pass Congress.
With all this in mind, it wouldn't surprise to see the market pause and wait on further evidence before too long and that could see a worthwhile retracement. It seems to me that chart patterns support this possibility.
US 30 Daily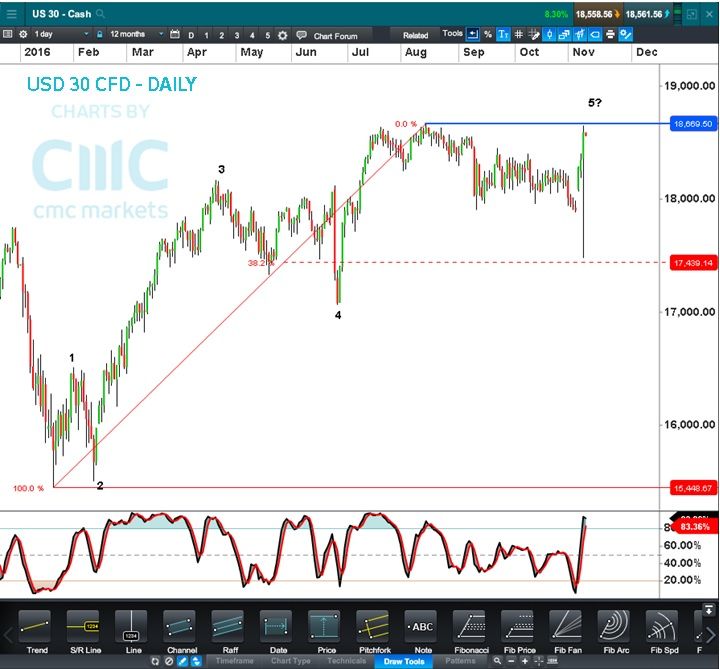 Yesterday's low came off the 38.2% Fibonacci retracement of this year's rally. That rally had a low of 15449 in January and peaked in August at 18,669. It also looks like an Elliot 5 wave advance. I've labelled this on the chart. Both these things would be consistent with US 30 making a peak either at the 18669 resistance or a bit higher. If that happens a significant downward correction could follow.
US 30 Hourly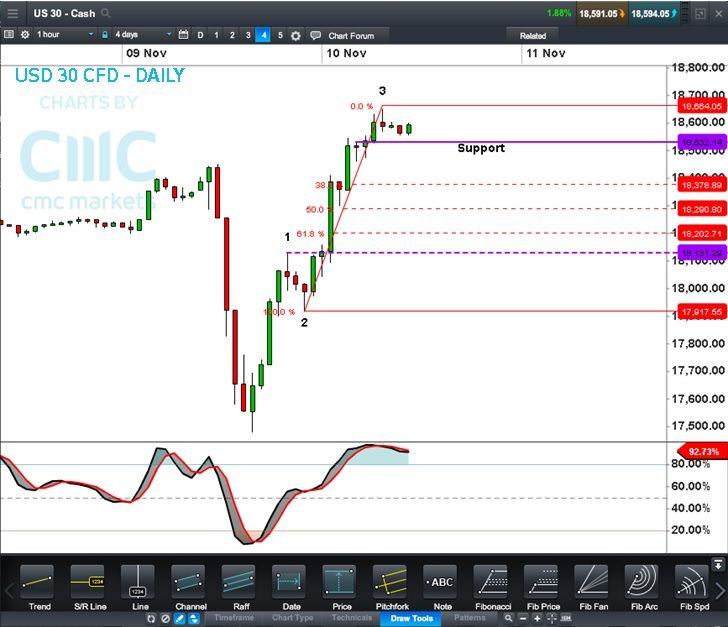 A move below near term support could confirm this morning's high as a short term peak. That might lead to a couple of scenarios
A pull back to deeper Fibonacci retracement levels between 18,200 and 18,378. From there we could get a final leg higher which would fit with a peak just through the 18,669 resistance
A break below support at 18,131, suggesting a more significant move lower could already be getting under way.