The Dollar rallied last night. This was its first positive session for over a week. However the really interesting thing, is that this bounce comes off what might be a major chart point.
Weekly Chart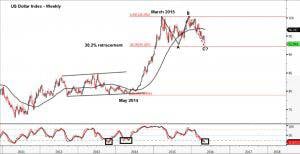 Dollar Index Weekly
Source: Bloomberg
The Dollar Index has been stuck in a large trading range since March last year. Last night it flicked below the previous support but ran straight into the 38.2% Fibonacci retracement level. Last night's rally could easily turn out to be a rejection of that retracement level
That rejection could be significant. In the big picture, the trading range has the look of a "flat correction". This is a common 3 part or (ABC) correction pattern. The 38.2% Fibonacci retracement level can often form the lower boundary of flat corrections like this.
The fact that last night's bounce started with the slow stochastic in the over sold zone could also help initial upward momentum. The last time it was at these levels was back at the 2014 lows.
If this does turn out to be a "flat", then the Dollar Index is on its way to new highs above the March 2015 peak. If not, there's still the possibility of a significant rally, perhaps to retest the previous high confirming a large rectangle type pattern.
Of course, all this is far from certain but it's worth watching. If it plays out, a Dollar rally will have a big influence on most other markets including stock indices and commodities.
Of course, you can also trade US Dollar Index CFDs via our platform