Here are 2 related divergence situations.
Platinum
The first is my old friend, the platinum MACD set up. I've posted this chart twice before. It finally set up yesterday.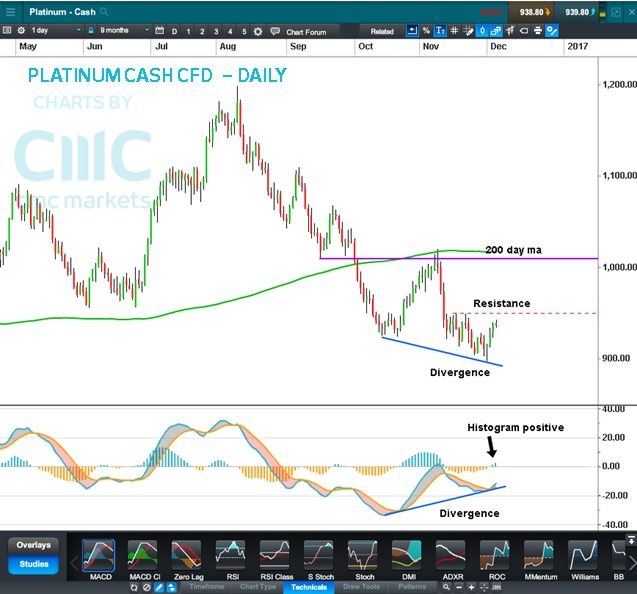 The MACD has now crossed its signal line indicating an uptrend and confirming bullish divergence. You can readily check if the MACD is above its signal line whether the histogram is showing values above zero. When the histogram values are below zero, MACD is below its signal line and indicating a down trend.
The set up I'm using here looks for a trend change that follows good quality divergence. This happens   where price is still making lower lows but MACD has begun making higher lows. With MACD, the best bullish divergence set ups tend to start from a long way beneath the zero line.
The first obstacle for platinum might be near term resistance around $950. The divergence set up provides a reason to think it will have the momentum to do this.  Clearing $950 could set up for a rally towards the major resistance around the November peak and 200 day moving average at $1010-$1020.
USDJPY
Dollar Yen is showing early signs of potential bearish divergence. This fits with the platinum scenario. A bearish correction in the dollar is likely to go with an bullish correction in bonds and precious metals.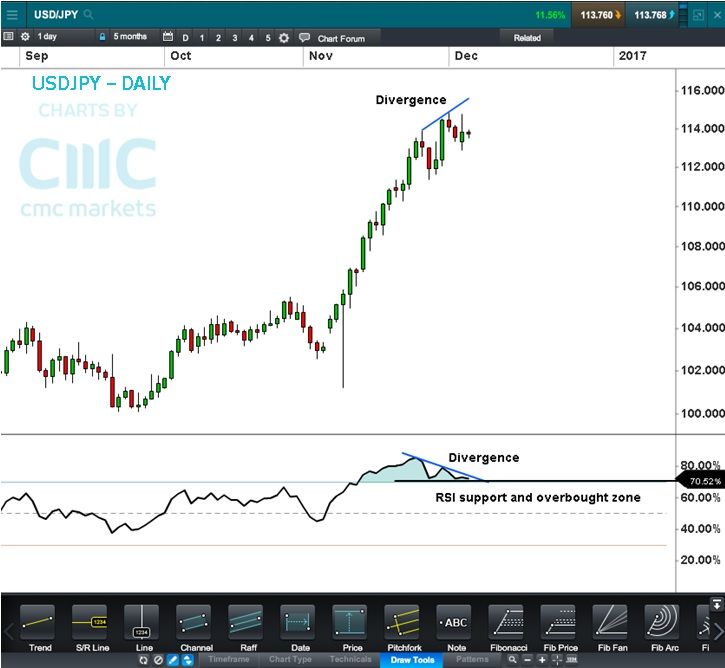 In this case, I've used a 14 period RSI to indicate potential bearish divergence. The RSI is starting to make lower highs while price is still making higher highs.
One strategy for entry on RSI divergence set ups is to sell if the RSI confirms reversal by closing below support. It would then be trending down, making both lower highs and lower lows. In this case, RSI would also be dropping out of the overbought zone above 70%, indicating scope for a decent move lower.