from Ryan Schofield at Trade with Precision:
Are your kids already impatiently counting down the days until the premiere of Disney's next animated movie; Moana? With blockbuster hits like Frozen and Zootopia in recent years it takes little prophetic ability to assume, that box office, streaming and Bluray sales numbers should be great! So no better time to join Mickey and get long some Disney shares right?
I don't know what analysts think of Disney right now. Personally, I don't care, because the charts hold all the information I need to consider an investment in any market. So let's have a look how Disney has performed recently: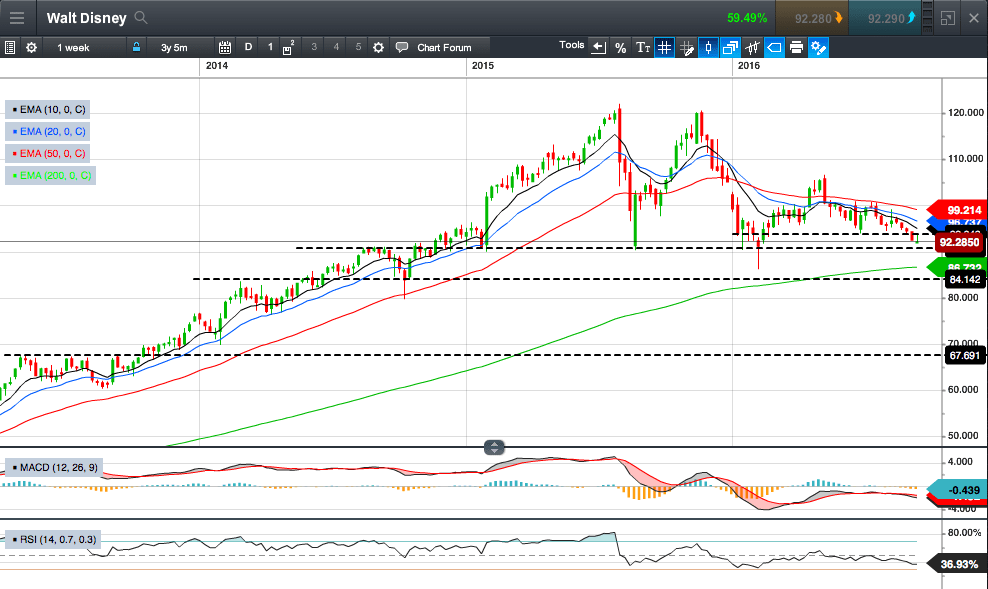 As usual I will start my analysis on the weekly chart to get the "Big Picture" first. Here we can see that starting in August 2015 things really didn't look friendly. A deep pullback beyond the 50 period EMA set the stage for things to come. The run up in November 2015 came within a few points of the old high but failed to make a new higher high. This fact, together with a strong divergence in both MACD and RSI, should have raised more than just a few concerns at the time. Surely enough, beginning of 2016 saw new lower lows and lower highs, establishing the downtrend. Right now, Disney is pushing lower with a set of fanning moving averages towards the 90 level.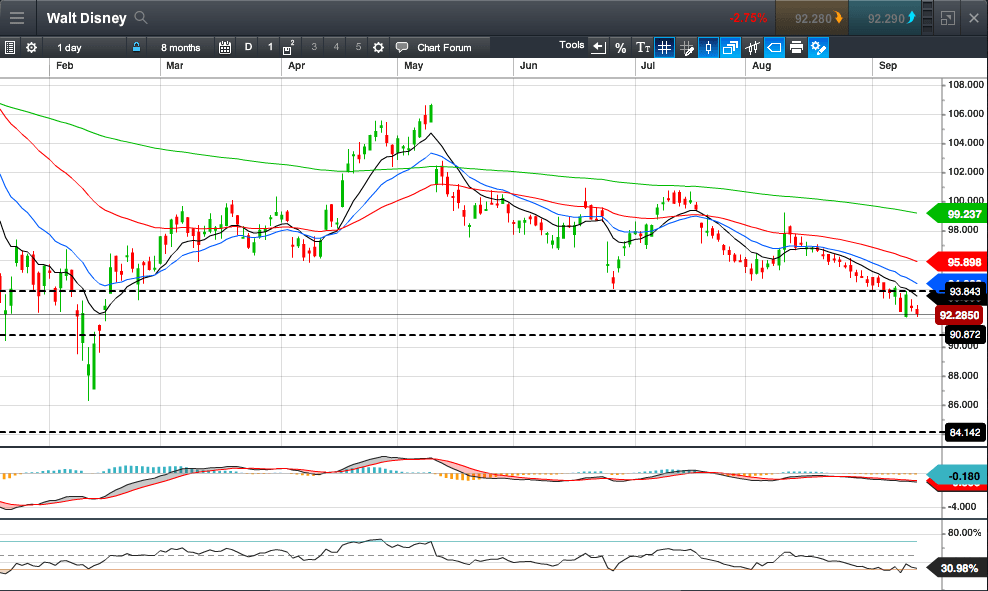 On the daily chart a further level at 93.84 becomes visible and price is now right between those levels and within a strong downtrend.
I'm currently looking for three different trading opportunities here:
1: A pullback to the 93.84 level with a small bearish candle forming with a potential 3:1 reward-risk ratio before running into the 90 level
2: A potential momentum breakout setup that might setup at the 90 level itself
3: A potential pullback back to the 90 level once it will be broken for another Trend flow opportunity supported by a strong level.
I know that I will be watching Disney closely in the next few days and weeks: Moana for fun and giggles and the charts for those sweet short opportunities. But if you currently have a long exposure in Disney, now might be the time to reconsider it and, if you arrive at the same conclusion as I, then maybe just… let it go.
Happy Trading!