Deutsche Bank's credit outlook remains a significant factor for world stock market sentiment. The Deutsche Bank chart was left in a potentially disappointing position after last night's trading.
Deutsche Bank chart - monthly
I posted some views on Deutsche's long term chart last week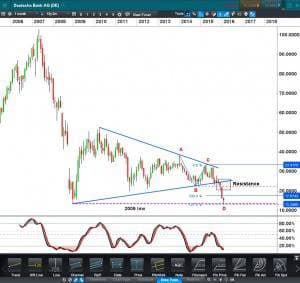 Deutsche Bank Chart
Monthly CFD
Click to Enlarge
To summarize:
This chart remains in a down trend with monthly candles making lower highs and lower lows
Last week it touched potential support. This is formed by the 2009 lows and a harmonic, Fibonacci ABCD level. At that point CD = AB x 1.27
The slow stochastic is over sold providing support for a possible rally
But to be of more than short term significance, any rally would have to get passed resistance formed by the low at "B" and the old triangle support. This is around 22-24
On Friday, Deutsche announced it will buy back $US 5.4bn of its bonds. This doesn't change a great deal but indicates it has the liquidity for this as well as meeting its obligations in the medium term. Moody's also released a statement yesterday, saying it believed Deutsche can meet its interest payments for the next 2 years. Market concerns remain focused on what happens after this if  the bank continues to make large losses.
Deutsche Bank chart - daily
The daily chart formed a minor double bottom at the long term support last week which was encouraging. It didn't follow through very well last night though. It backed off resistance and closed near its low on what was a strong session for the over all market.
What the Deutsche chart does about this resistance could be something to watch for an insight into global stock market sentiment.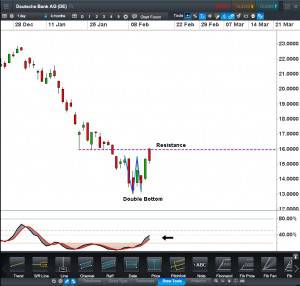 Deutsche Bank Chart
Daily CFD