The Deutsche Bank chart looks could be a lead indicator for world stock indices for a while. Concerns about developing credit problems are one of the market's key concerns. At the moment Deutsche Bank appears to be at the epicenter of these concerns.
Dispiritingly for shareholders, the Deutsche Bank chart is testing its GFC lows. In fact it flicked below this level on Tuesday. That said, a tepid bounce last night creates the hope it might form support around  here. This possibility is enhanced by the fact that this level is also a harmonic, Fibonacci chart point where CD = AB x 1.27
The long term monthly chart is over sold as indicated by the stochastic oscillator in the box below the chart. Strongly trending markets can stay over sold for a long time of course. However, when they do occur, bounces out of this zone often have a fair bit of momentum.
To form a view that this support is likely to hold for more than a short period, it would be prudent to look at shorter term charts like the daily for signs of more substantial basing behavior. This could be bullish divergence between price and the RSI or a Bollinger Band "W" pattern for example.
Even if this support does hold, there's a long way to go before you could conclude that any rally is more than just a counter trend correction. Looking at things in the big picture monthly chart below, it would take a move up through resistance above 22 to suggest anything more than a minor bounce in the long term downtrend.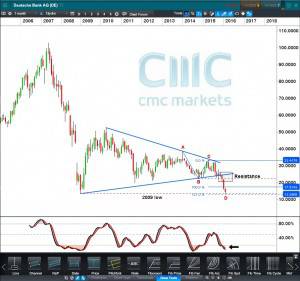 Deutsche Bank Chart
Monthly CFD
Click to Enlarge