Last week, I posted a blog outlining a bullish Bollinger Band setup for ANZ bank. The potential to complete a bullish double bottom pattern is still a possibility. However, the selloff over the last few days has set up an alternative scenario. The ANZ chart could now be in the process of completing a descending triangle pattern. This creates both bullish and bearish chart possibilities.
Bullish pattern scenarios
As discussed last week, a rally from here through the peak between the double lows would complete a double bottom pattern and be a potentially bullish indicator. While still possible this is starting to look less likely.
If price was to fall fairly quickly now but then bounce off the support line for a third time, this would bring the triangle resistance into play. A third bounce off the support, followed by a break of the triangle resistance line would also be a bullish pattern development.
Bearish pattern scenario
If price keeps falling from here and breaks the pattern support this would look bearish, indicating potential for a final leg down in the major downtrend.
If there is a break of the triangle support a couple of ab=cd pattern levels come into play. The first of these is around $25.80 as shown on the chart below. The second is around $25.10 where cd = ab x 127%.
With the Fed decision on interest rates now only 2 days away it might pay to have both bullish  and bearish scenarios on the radar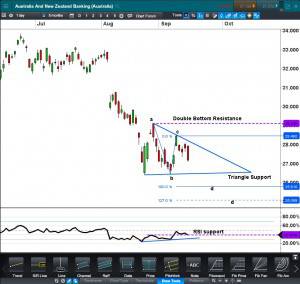 ANZ CFD Daily
Click to Enlarge
Matching valuation to the chart outlook
At the close of trade today, ANZ finished on an earnings multiple of around 10.3 times next years earnings. The consensus overview is already factoring  in a tough environment for ANZ. It's earnings per share is expected to grow only 1.5% next year.
With this modest price earnings multiple in mind, the most interesting trading alternatives based on the chart scenarios above might be an opportunity to buy on a third bounce off the triangle support or, even better, following a rejection of one of the abcd pattern levels. At the $25.80 ab=cd level, ANZ would be valued around 9.8 times F16 earnings.