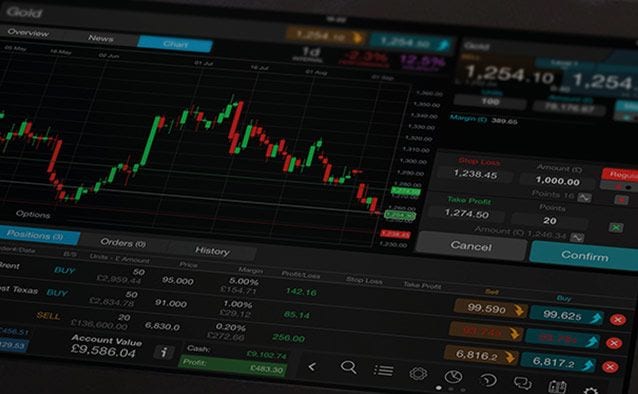 Before getting onto CSL, I thought share CFD traders may find it useful to know that over the weekend we added Morningstar Research to the analysis you can access directly via the Nex Gen Platform
Morningstar Research
This research gives you a snap shot of a stock's financial history and a summary of Morningstar's financial analysis. This can be a really useful way of getting some insight into valuations; past performance and balance sheet strengthof companies you are interested in trading. Of course, when using this kind of material it always pays to remember that this is just one research house's analysis. There's usually quite a wide range of opinions and valuations for a stock (that's what makes a market).
You can now access Morningstar research for each share CFD. Just open the drop down menu from the button to the right of the stock name in the Product Library or your watch list of via the button at the top left hand corner of a chart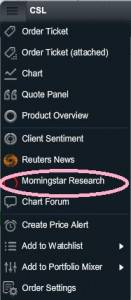 To get more background information on  Morningstar quantitative ratings here
However, I might be able to give readers a bit of a leg up on the meaning of Quantitative Moat. This refers to Morningstar's quantitative assessment of a company's competitive advantage over others in its industry
CSL Triangle pattern
Anyway - back to  business.
Some of the quality stocks with positive exposure to a weaker Australian Dollar via overseas businesses have held up reasonably well throughout the current sell off.  Blood plasma group, CSL is one .
In holding its own, the CSL chart has formed a triangle pattern. For technical traders, this might create a couple of opportunities.  One approach would be to buy if price hits and then bounces off the triangle support for a 3rd time. Another would be to buy on a breakout through the triangle resistance.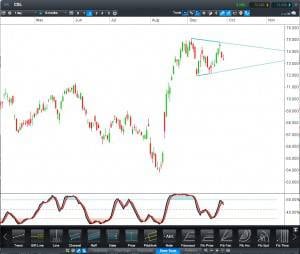 CSL CFD Daily