By Adam Harris, Trade With Precision
One of my favourite features on the NextGen platform is the variety of instruments that can be traded. Recently, I've enjoyed high probability setups on the array of Crypto-currencies included on the platform.
Now, to be clear, I am only interested in shorter-term trading opportunities where the liquidity, volume and price action structure is comparable to those found in other asset classes when conditions are ideal.
On my watchlist this week are the Crypto Indices, and I can choose between the All Crypto Index (ACI), the Major Crypto Index (MCI) and the Emerging Crypto Index (ECI). In my opinion these offer the best opportunities in terms of stability, since they combine the collective behaviour of their underlying counterparts.
Looking at the monthly ACI chart, I can see a clear bullish momentum in play.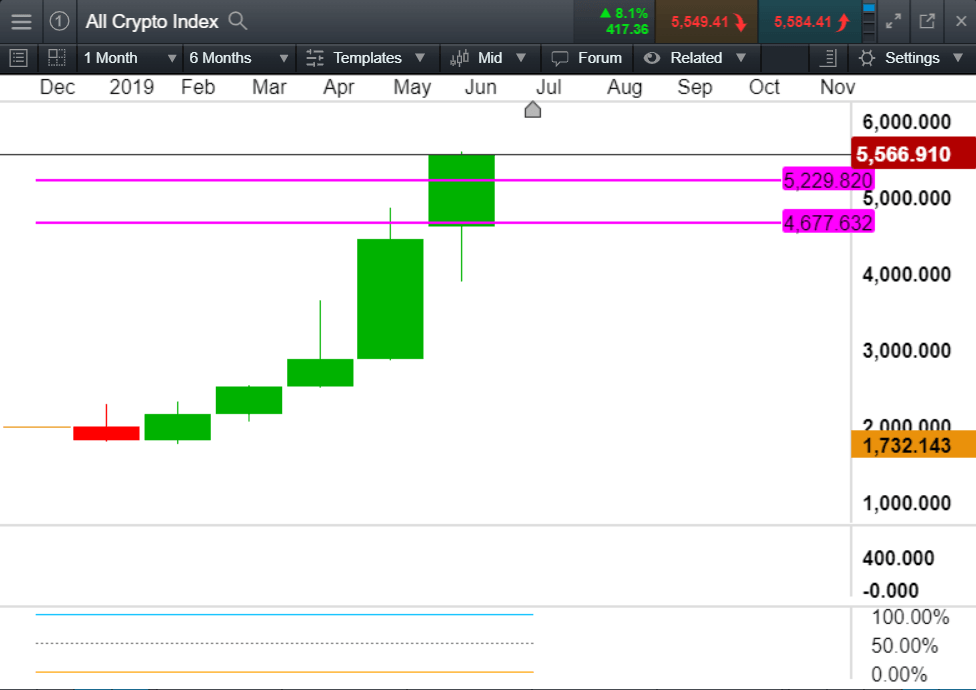 The weekly chart below is also bullish, showing a clear, smooth uptrend with higher highs and higher lows. The moving averages (MAs) are fanning out in a bullish fashion, with momentum indicators MACD and RSI supporting the bullish flow.
I note thought, that price is reaching its zenith with over-extension becoming a possibility in the medium-term. This means I accept that within a week or more, price could begin to retrace on the weekly back down to the 10 & 20 MAs.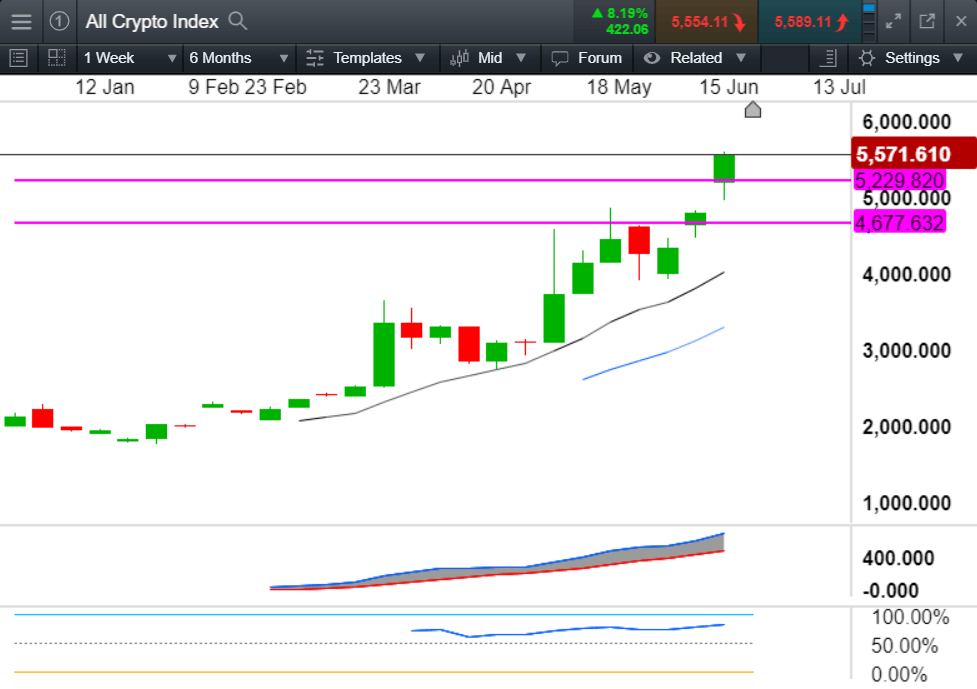 The daily chart (below) continues the uptrend and price here is also going to be due for a retracement, in my view within the next week or so. I am highlighting levels that will serve me as potential entries into this trend when that retracement happens, Therefore I will be stalking those levels. The key level around 4,800 also makes for a, round number and could offer an astute entry into this uptrend.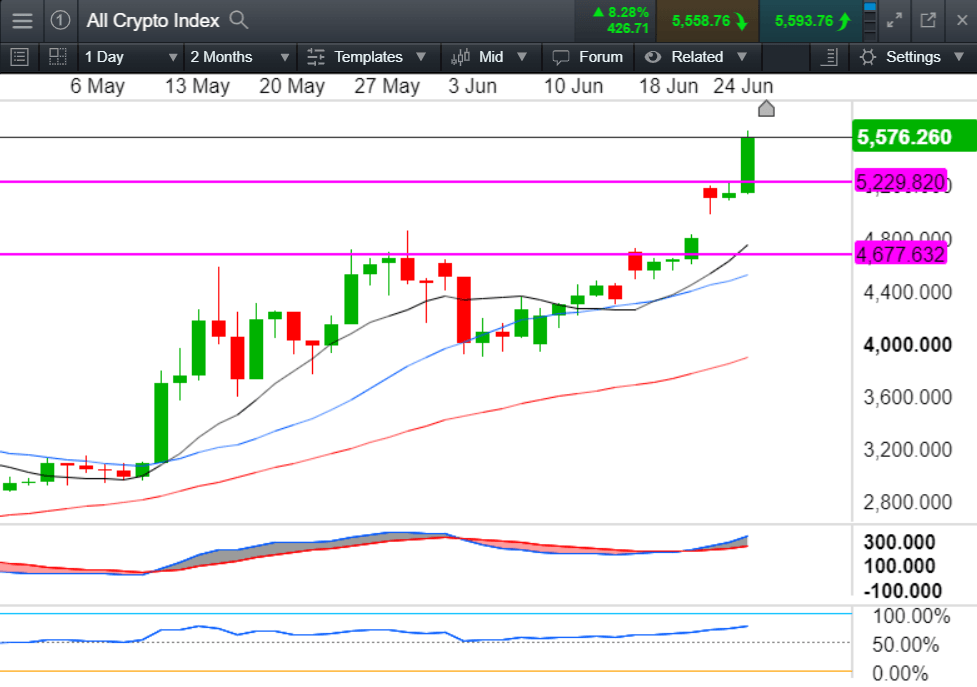 Now, although the chart conditions may change within the following 48 hours, I find it interesting that the strong trending conditions and higher-highs and higher-lows continue down the timeframes. This is demonstrated by both the two-hour and 15-minute timeframes pictured below. For me, the lower timeframes offer the opportunity to refine my entry and/or improve my reward-to-risk ratio, but it's important that I maintain the direction, which in this case, is up.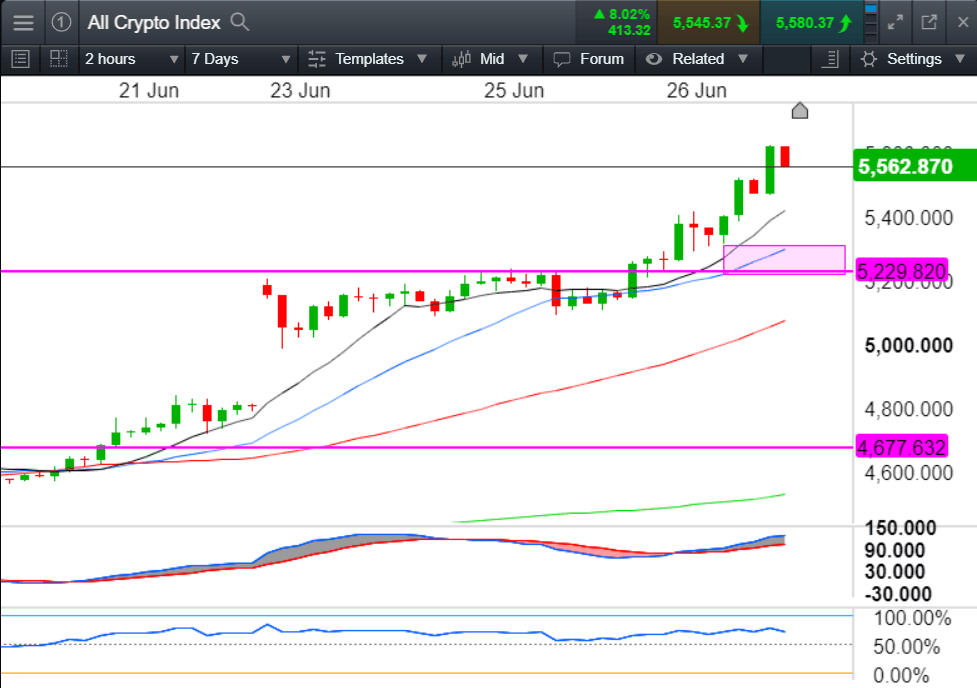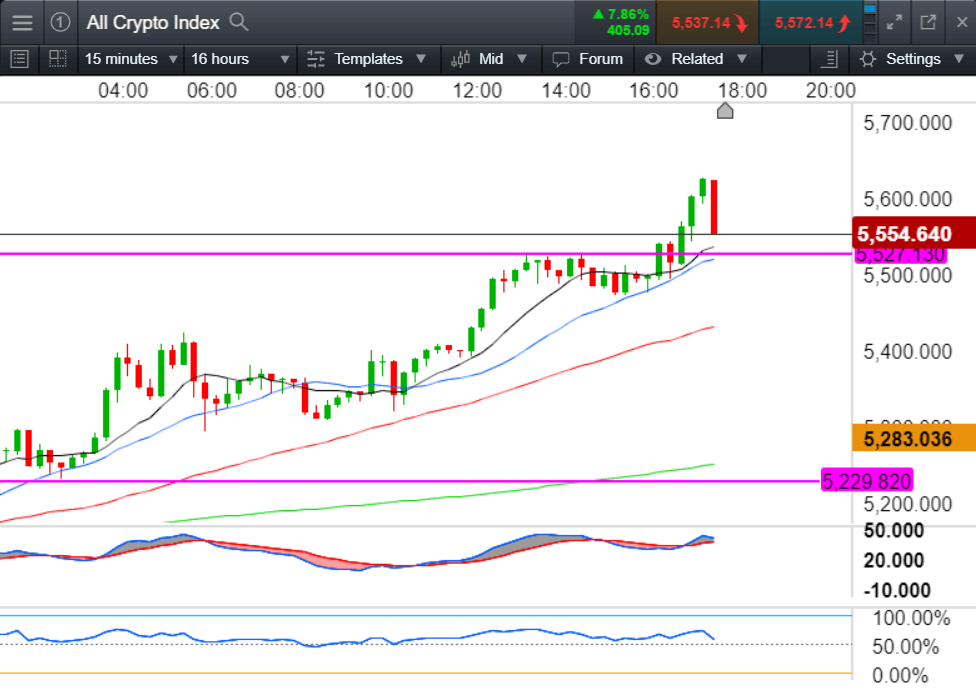 Whether I decide to enter on the daily, four-hourly, or lower timeframes, my entry will be based off of a small bullish candle in the area in-and-around the 10 & 20 MAs. My preference is to align this with additional support levels, wherever possible.
In the chart above, I have drawn in a true support level that could act as additional technical support, if I was considering an entry on this timeframe.
Taking a look at the same timeframes (with the exception of the two-hour) for the MCI, I can see that the conditions are almost identical to the ACI. As such, I will also include this instrument as part of my watchlist over the coming days and monitor for opportunities.
In both cases, I'll be monitoring the weekly for signs of weakness, but otherwise, I'll be stalking the two-hour, four-hour and daily for entry opportunities from the MAs and taking partial-profits, usually 50 percent when I reach my 1:1 target. As a general rule, I aim for 3:1 reward to risk, but in these cases, I will likely employ a trailing stop for the remainder of my open positions, trailing behind each second candle. Lastly, it is worth noting that I would be looking to trade either one of these index markets – if both set up according to my rules I would look to divide my risk over both trades to ensure I minimise my risk exposure.
Happy Trading.