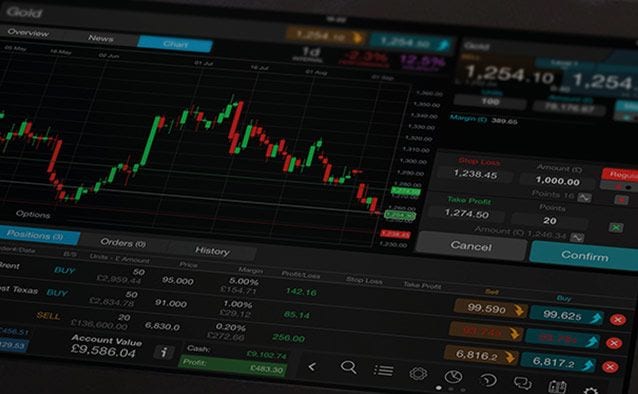 West Texas has been pretty much a one way street in recent weeks, rising from the June 24 low of $92.49 to peak at $109.28 on Friday.
I was interested to see that while precious metals rallied strongly yesterday in response to a weaker $US, WTI bucked the trend and actually had a quite a weak day. In doing so it is beginning to show signs of technical divergence.
Since late 2010, West Texas has traded at a discount to Brent, the other main benchmark for light, sweet crude oil. This has been an unusual situation from a historical perspective. For most of the preceding 20 years, the price of WTI was  generally around parity or a slight premium to Brent. The recent situation has largely reflected technical, transport factors that have limited the capacity to move oil away from US domestic storage facilities in Oklahoma and take advantage of higher international prices.
In recent months, the direction of the major, Seaway pipeline was reversed. This allowed more oil to flow out of Oklahoma. This together with other proposed pipeline and rail capacity developments appears to have been enough to allow WTI to return to around parity with Brent over recent weeks.
The WTI price has also been assisted by a draw down in inventories as refineries have increased gasoline production for the summer driving season. This process is expected to continue as gasoline refineries come back on line after recent disruptions. Even so, inventories are declining from historically high levels and underlying gasoline consumption has not been impressive so far this summer. Last week it declined 6.1% to 8.73 m barrels per day.
With WTI now restored to parity with Brent and plenty of supply capacity to deal with current demand levels, some technical divergence after a strong rally might be of interest to reversal traders.
West Texas Daily Chart
I've used the RSI on the daily chart below to highlight potential divergence between price and technical momentum oscillators. While price recently continued making higher highs, the RSI began making lower highs i.e.  diverging with price. Momentum is starting to weaken and this often comes before a reversal in the price trend.
Many analysts consider the best RSI divergence sell setups to be when the initial divergence peaks occur up in the overbought zone above 70% followed by the RSI dropping out of this zone.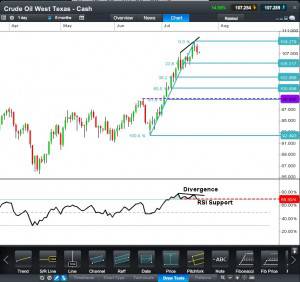 Crude oil WTI - cash cfd.
Click to enlarge
Crude Oil Brent - Daily
Assuming the relationship between WTI and Brent is now closer to normal, we may again begin to see them move in more or less the same direction (barring flare ups in Middle East politics etc etc.).
From the point of view of a potential WTI, divergence set up, it's interesting to see Brent is also struggling around the resistance of its 200 day moving average. The Brent chart might be providing logical confirmation for a potential divergence sell set up in WTI.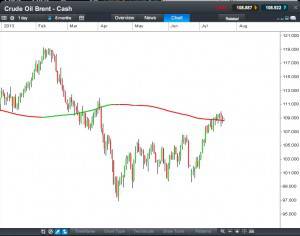 Cash CFD
Click to Enlarge
Strategy Approach
One approach to entry strategies with RSI divergence is to wait for the RSI itself to breach support after it has diverged with price by making lower highs. Ideally this breach of support would take it below 70%. The RSI support for WTI is shown by the dashed red line on the first chart so a breach of this level would take us below 70%.
Since RSI is calculated on the closing price, many traders wait for the RSI to close below support before entering.
With this sort of set up,  a typical place for the initial stop would be just above the latest peak. The strategy assumes a corrective downtrend is about to start so if the peak is taken out, the strategy has failed. Early days yet but an initial target might be in the zone of the 50 and 61.8% retracement levels which also finds the support represented by the 19 June peak.