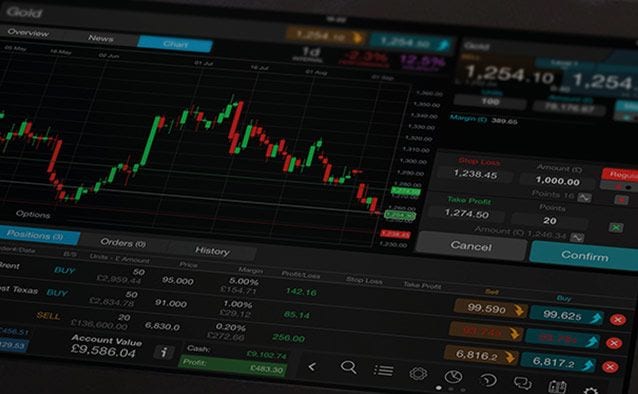 Crude oil has been in a strong downward trend for 7 months now. Since the start of the year, price has gone into a consolidation for a number of weeks. This consolidation may lead to a lot of traders believing crude oil has bottomed out and may potentially looking to buy the commodity. Today, I would like to share my view on crude oil based on the technical factors on the daily and weekly charts to see what might be the potential direction for crude oil in the coming weeks.
The three day strong rally (indicated by the blue arrows below) not only have taken out the major high of the downtrend on the 15th Jan but is also the strongest 3 day rally since the start of the downtrend 7 months ago (around the $110 mark).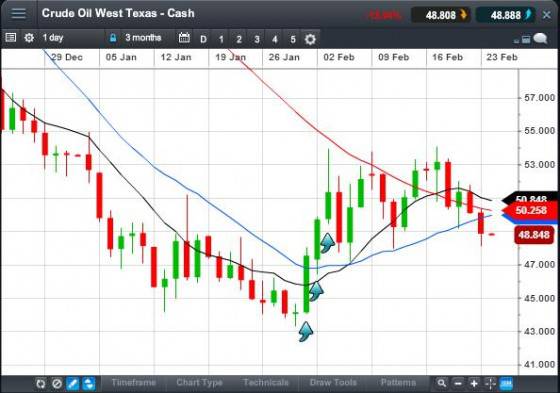 Following this short albeit strong rally price has subsequently made two equal highs on 9th and 17th Feb and two higher lows on 5th and 11th Feb (indicated by the orange and blue arrows on the chart below). It can therefore be stated that up till the 17th Feb the price action has been more bullish than bearish. But to confirm the bullishness, the overhead, major resistance at the $54 mark must be convincingly broken first.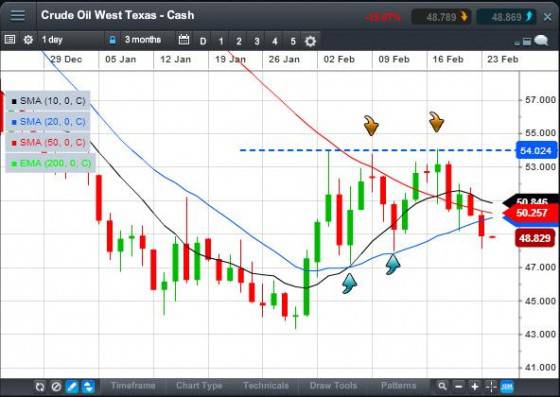 For this bullishness to continue I would have loved to see price make a concerted push through the $54 level however price has done the opposite and drifted away which in my opinion signifies that the overall bullish picture may be changing. A significant day for me is the 20th Feb where oil saw sellers coming back into the market and begin to push price lower with a bearish candlestick being printed. It is difficult to interpret from price action alone whether sellers are beginning to overwhelm the buyers or whether the buyers are beginning to abandon their post, but one thing is certain the bullish consensus is flailing.
Yesterday's candle (23rd Feb) confirmed the bearishness with a follow through of downward momentum with a firm close below the $50 psychological level.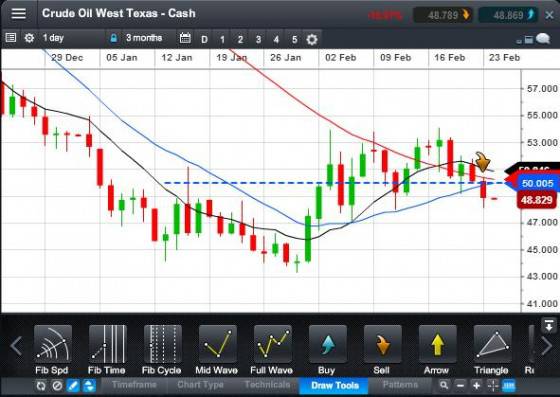 Weekly chart also tells a similar story. Last week's candle was a small bearish candle inside the weekly chart moving average sell zone. The size of the candle was the smallest one over the past 4 weeks. The contracted volatility is usually preceded by increased volatility. This week's price action has already taken out last week's low so I anticipate increased volatility and probability favours another leg down on this higher time frame.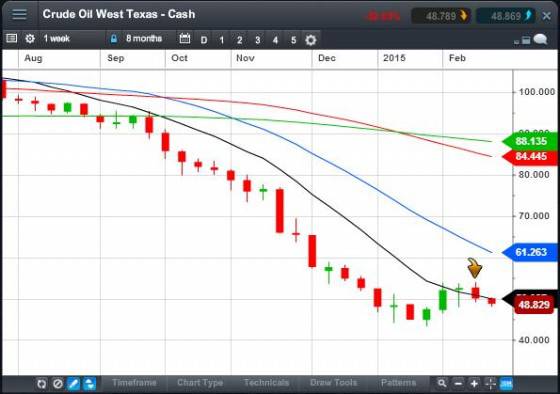 The potential short term target to the downside is to retest the low around $44. I will remain vigilant and patient as I wait for one of my strategies I have in my arsenal to signal a trade entry – one things for certain, based on the current information I have at my disposal – crude oil is currently looking weak.