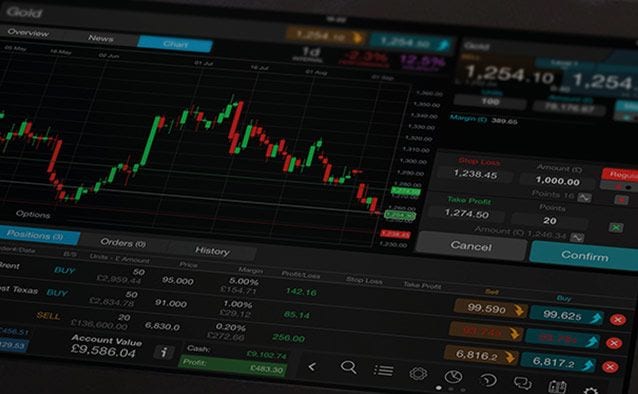 Following my blog, "Crude Oil Weakness" dated 24th Feb 2015, crude oil has continued its lateral movement within the consolidation range for more than 2 weeks. But if you look close enough, the footprints of the sellers are becoming more and more evident.
The 1st key date on the daily chart (5th Mar) is where price has rejected the midpoint of the consolidation range at $51 (the consolidation range has formed between $54 and $48). It signals that potentially sellers have started to gain the upper hand against the buyers here.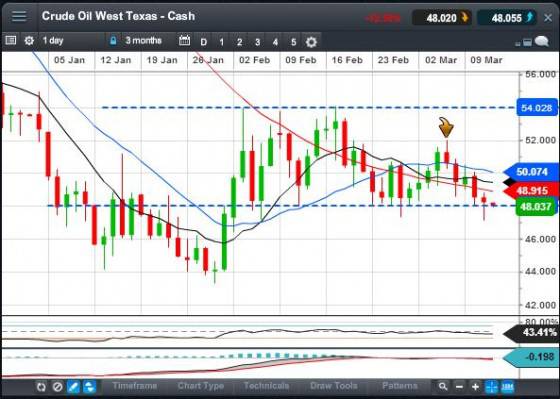 Price has gradually slipped to the bottom of the range with yesterday's price action pushing crude oil to the edge of a possible cliff. Firstly, it has taken out last week's low (black dotted line on the chart below). Secondly, it has also broken out the major low on the 26th Feb. It is significant as the daily chart structure has changed into a downtrend. Thirdly, price has also tested the low of the 5th Feb which is in my opinion, that proverbial cliff edge.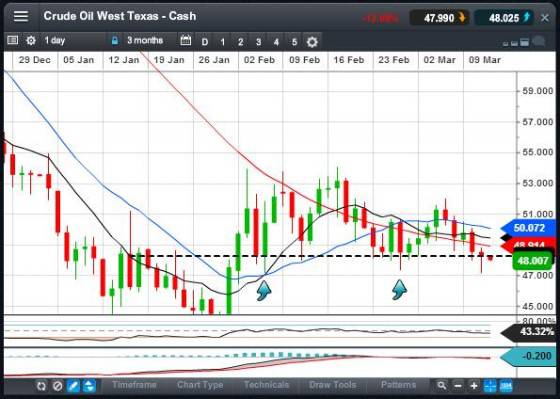 Therefore, today will be the judgement day for crude oil. If price cannot rally away from this "edge", but breaks down with strong momentum, then the past two month's price action could be confirmed as another stage of distribution by the sellers.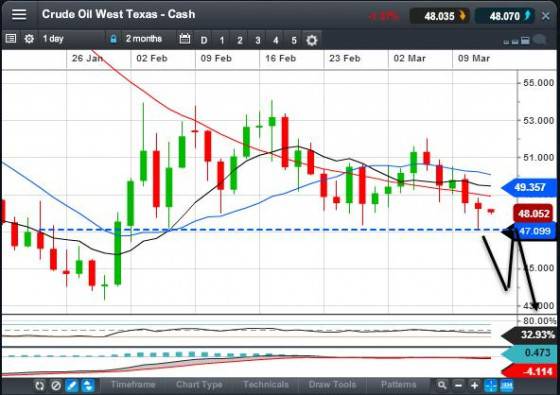 If price continues to develop according to my expectation, I will watch the $47.10 closely once the break down happens. I will be watching to see if price finds strong resistance around that level after the breakout, I will combine other technical factors together to see if a potential short trade opportunity will emerge. Potential target windows to the downside are around $44. After that, $40 which is the 2008 / 09 low, would be a good potential target to cover any short position.
Hao Sun