The crude oil chart is one of the key drivers of overall market sentiment at the moment. Yesterday's session makes things pretty interesting.
Last night we got news that US oil inventories surged to new high levels at 502.7m barrels. There was also no sign of production cuts either. These have been resolutely steady at 9.2m barrels a day over the past 2 months.
Despite this, oil staged a big rally last night. The West Texas price was up $2.40 or about 8%. A weaker $US helped but this looked like serious short covering in what has been a very shorted market.
Large scale capital expenditure  cuts by major energy companies continue to be a feature of the profit reporting season to date. For example, Chevron's is budgeting for its lowest capex in 10 years. It seems inevitable that this will begin to show up in production cuts and short holders appear to be taking some defensive action in advance.
Here are some chart levels that might help get a gauge on just how serious this rally is becoming.
Crude Oil Chart Weekly
The big picture weekly chart is certainly positioned for the possibility of a corrective rally. As I noted in a post a while ago, the low 3 weeks ago bounced neatly off an AB=CD turning point.
Price is well below its 40 week (200 day) moving average and the slow stochastic indicator in the box below the chart looks a chance of beginning to rally out of the over sold zone. A bit of mean reversion certainly looks possible
$33.95 resistance. In this context, the dashed resistance line around $33.95 looks a key level. If the current rally can extend to a break above that level, the stochastics will be rallying out of the oversold zone. That would suggest upside momentum and potential for further gains
Failure below $33.95 on the other hand would not be a good sign. That would leave last night's rally as part of a minor correction with potential for a move back below last night's low.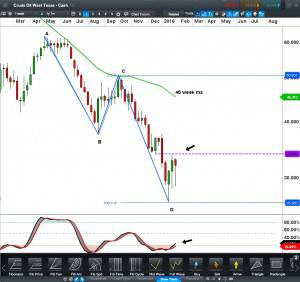 Crude Oil West Texas
Cash CFD Weekly
Crude Oil Chart Daily
Yesterday's price action resulted in a bullish engulfing candle on the daily chart. This is encouraging for short term upward momentum and a crack at the $33.85 resistance. The rally also came off the 61.8% Fibonacci retracement which might be significant.
If this produces a break above the $33.85 resistance there are a couple of Fibonacci levels that may be worth watching as potential targets. The first is the 38.2% retracement around $36. In the big picture, this would be a fairly shallow retracement of the whole move down from the last time oil rejected its 200 day moving average at $50.80. For good measure this coincides with an AB=CD level.
The next possibility might be up around $38 or $38.70. This would be a strong 127% extension of the AB move or a 50% retracement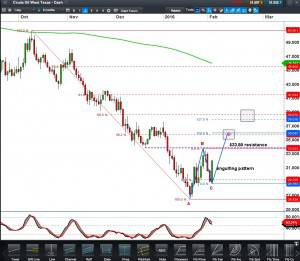 Crude Oil West Texas
Cash CFD Daily