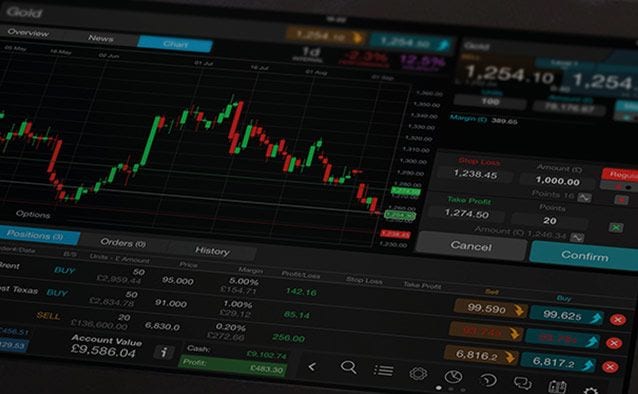 From Hao Sun at Trade with Precision:
Higher timeframe analysis is a crucial step in my trading. The story between buyer and seller on the high timeframe is very important to me as it helps to confirm my trade direction. Once I know which direction I would like to trade in, I then look for potential trade setups in the lower timeframes. Today, I would like to share my view on Copper, is the weakness set to continue? This is my view…
Copper is in a strong downtrend on the monthly chart. The rally over the past three months was only a simple pullback on the monthly chart. The price has already pulled back into the monthly moving average sell zone this month. It signals that there is a potential for a turnaround of price to the down side and the resumption of its longer term downtrend.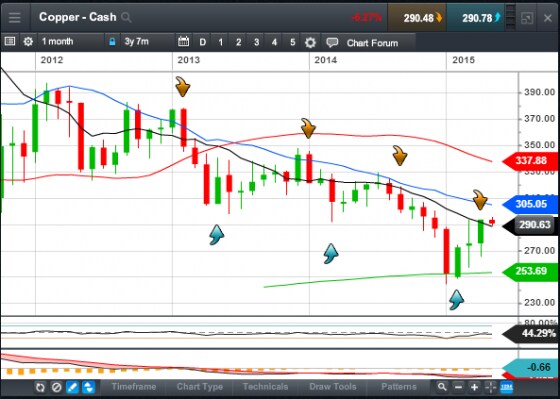 Although Copper is in an early stage of an uptrend on the weekly chart, the price action over the past 2 weeks looks to have stalled and appears to be battling to make further progress to the upside. This may be due to the strong overhead resistance. Firstly, the 300 round number and the 294 major support/resistance level have formed a resistance zone on the weekly chart. Secondly, this resistance zone is also inside the "sweet spot" between 50% and 61.8% Fibonacci retracements plus the price is already in the monthly moving average sell zone. Therefore, there are multiple technical factors at this price zone all pointing to a possible further weakness of copper.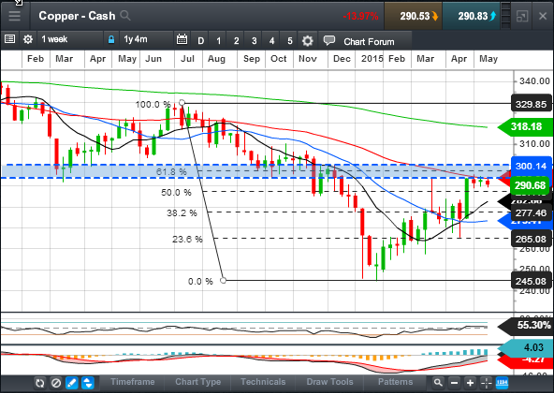 The price action on the daily chart shows a process of shifting power from the buyers to the sellers. Over the past two weeks (including today), the price has been trying to break out of the major high formed on the 23rd March 2015 but has subsequently failed. Yesterday's price has taken out last week's high by a fraction but being immediately rejected --- a potential signal of strong selling pressure off the resistance level.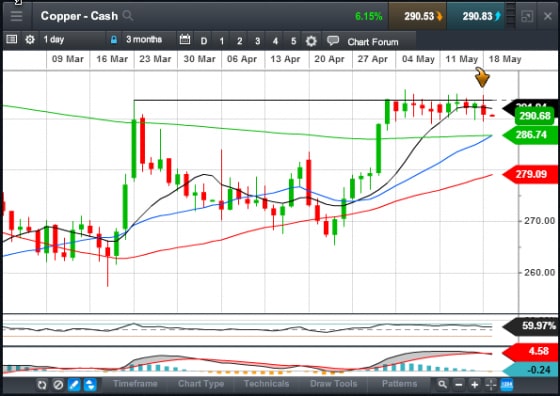 Now, how do I look for potential short trade opportunities? I have two scenarios I am watching for on the 4 hour chart; if price continues to consolidate above 289 with small candles, a potential momentum breakout setup might emerge. If price breaks down through the 289 level with strong momentum, I will wait for the price to re-test the same level for a potential trend flow short trade setup.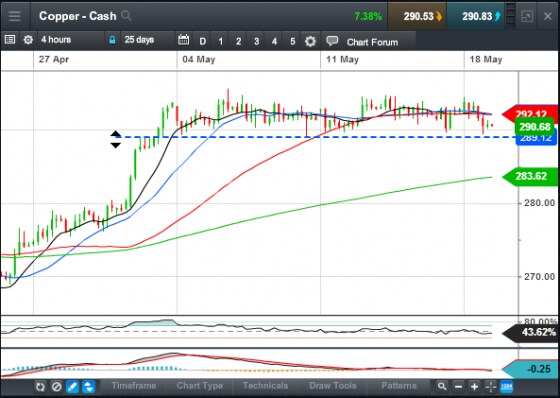 The potential short term target to the downside based on the daily chart is 284 and 270 support levels. Long term objective is the major swing low on the monthly chart around 244.