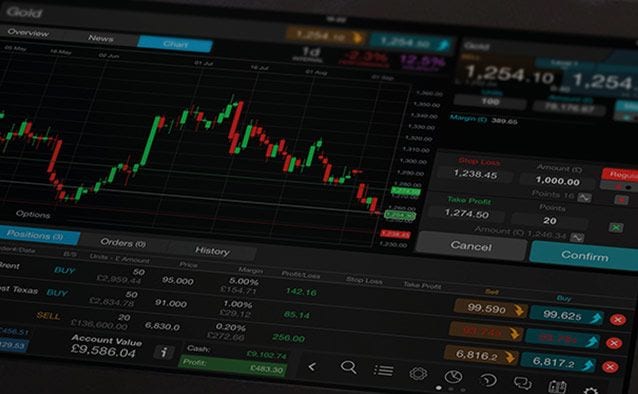 With iron ore and oil in the grip of a bear market, the major resource companies are pinning more of their medium term hopes to copper. Here's a bit of back ground information on this market and some thoughts on the longer term technical outlook for next year.
BHP CEO Andrew Mackenzie commented yesterday that they expected copper demand to grow faster than iron ore as China's economy makes the transition to greater reliance on domestic consumption. This should see China using a lot more electricity. Around a third of world copper production is used for electricity, mainly in wiring and transformers. China consumes about 40% of world copper production.
Surplus forecast next year
Many analysts are forecasting that copper will follow iron ore, moving to a supply surplus next year as mine production grows. The International Copper Study Group is tippping production to exceed demand by 390,000 tonnes next year with China's refined usage growing only 1.8%. As the chart below shows, copper has been drifting lower this year but does not at the same alarming rates as oil and iron ore.
Back to Deficit in a couple of years
While a copper surplus is forecast for next year, this has been a long time coming with mine disruptions and a delays to new projects constantly delaying production increases. There's always a risk this will happen again many consider that it will be relatively minor and relatively short lived with a dearth of major mining projects in the pipeline.
Copper chart review
While copper has not grabbed the headlines like iron ore and oil, it's been no slouch in the volatility stakes. It had a bone jarring descent to $US 1.25 per lb following the Global Financial Crisis. After that, China's massive stimulus policy collided with a tightly supplied market launching copper into the stratosphere at $4.64 per lb in 2011. Since peaking copper prices have declined 36% to current levels just below $US 3. In the big picture this downtrend looks like a correction of the major post GFC rally.
The chart below outlines a couple of potential support levels for the long term copper watch list. One possibility is the completion of a 3 drives to a low pattern. Copper is potentially now in the 3rd and final drive lower. This has a habit of being the same size as the second drive lower. That implies a final move down to around $2.73. Another level to watch is the 61.8% retracement of the post GFC rally which cuts in at $2.55. As oil and iron ore have demonstrated, supply surpluses can drive prices much lower than many expect. For the very bearish scenario, the 78.6% retracement around $1.97 comes into play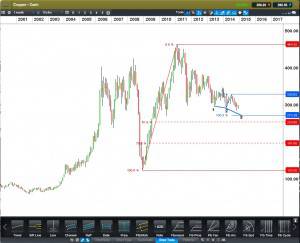 Copper Cash CFD Monthly
Click to Enlarge