Coal and a pair of double tops
Whitehaven Coal's production report contained no major surprises today. This stock is worth about ten times what it was in February last year but the chart is beginning to look nervous.
Thermal coal price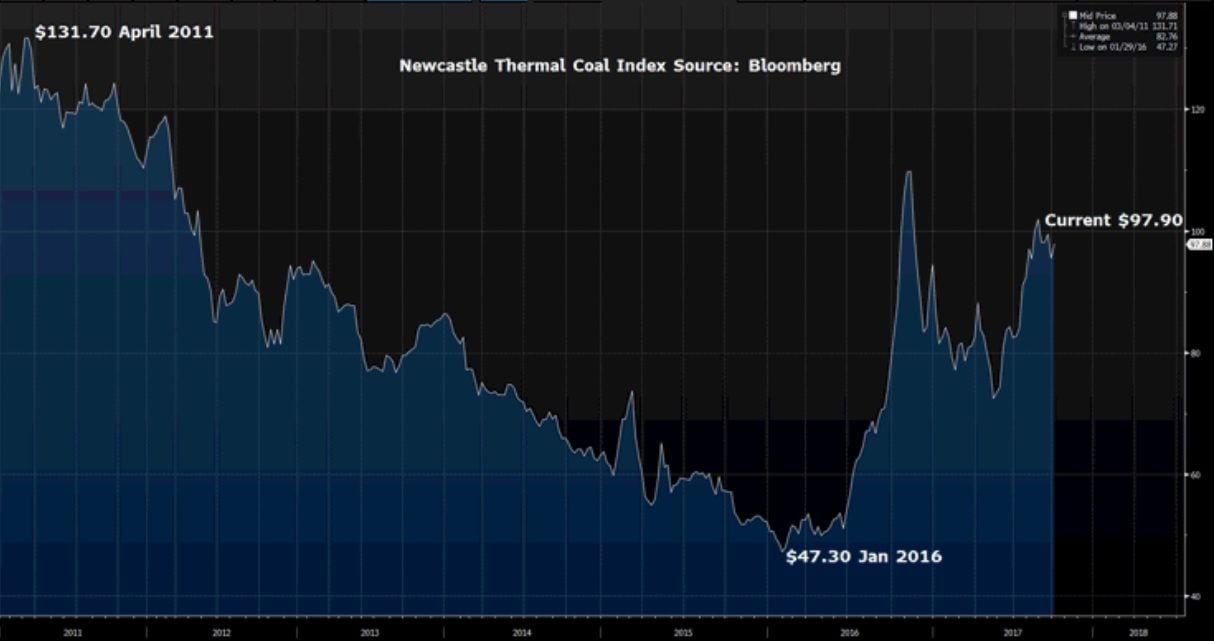 Just like other major Australian mining companies, Whitehaven is now an efficient operation with very low debt.
From here on in, the share price will be largely about the outlook for coal and on this score, opinions are divided
Whitehaven itself expressed a positive outlook for thermal coal prices over the next year. It notes that the higher quality end of the thermal coal market is experiencing stronger demand as end users change their quality requirements due to a focus on environmental and generation efficiency. At the same time, major thermal coal exporters have been unable to respond to the strong demand.
Macquarie Bank begs to differ. They have been quoted in the press over recent days as saying thermal coal is their strongest short call in the bulk complex. They believe that Chinese authorities have reached the end of their tolerance for higher prices and will be looking for substitutes for imported coal. Macquarie sees thermal coal coming back to around $US75 compared to the current $US98/tonne
Whitehaven Coal Chart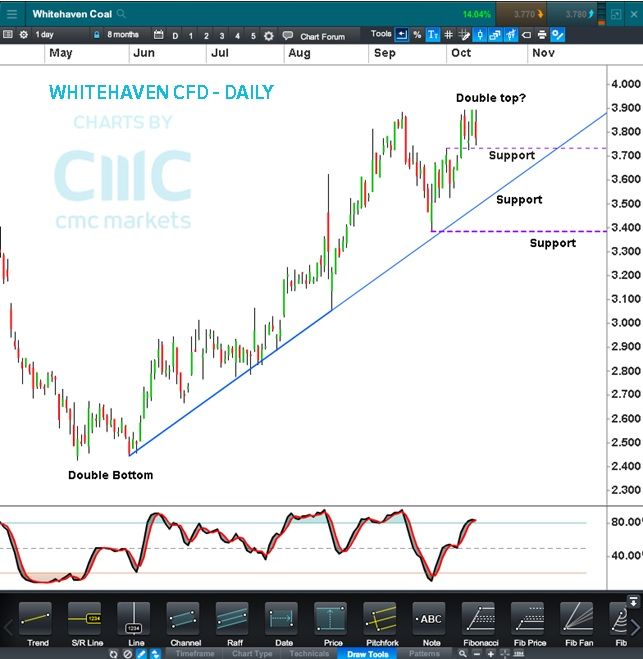 This is an interesting chart. As things currently stand, price is positioned to form a double top with the mid-September peak
The last few days' price action has also formed a minor double top. From here a break below recent support at $3.74 would complete that minor double top.
Completion of the minor double top could indicate that the bearish outlook for thermal coal is beginning to prevail. That could lead to a pull back to trend line support around $3.55 or to the support of the larger double top around $3.45
A break of the major double top support could set up for an even larger correction.