The CMC Markets Election Sentiment Index (ESI) examines the performance of the Australian share market during the 2016 Federal Election campaign. In stripping market factors, the ESI singles out the impact of shifting political currents on Australian market thinking. When the ESI moves higher, Australian investor sentiment, as measured by the share market, is improving. Conversely, negative moves for the ESI suggest the election campaign is weighing on stocks.
The first Australian double dissolution election since 1987 means that control of both houses of parliament is up for grabs. This makes policy intentions more important than usual, as a persuasive argument to the Australian people could result in a strong electoral mandate.
How does the ESI work?
Kicking off on May 9 (the first trading day after the Governor General's declaration) the ESI compares the performance of the Australian share market to international benchmarks. The ESI takes the daily performance of the Australian share market, and strips away performance drivers such as global stock sentiment and commodity price moves. What's left are the specific Australian factors. This means the ESI reflects the impact of the slings and arrows of the election campaign on investor sentiment.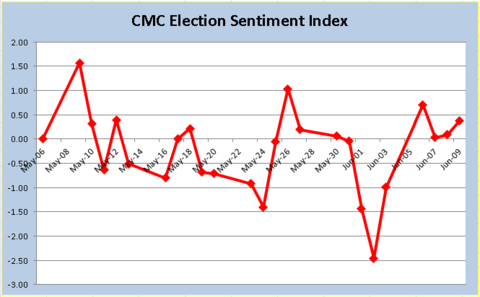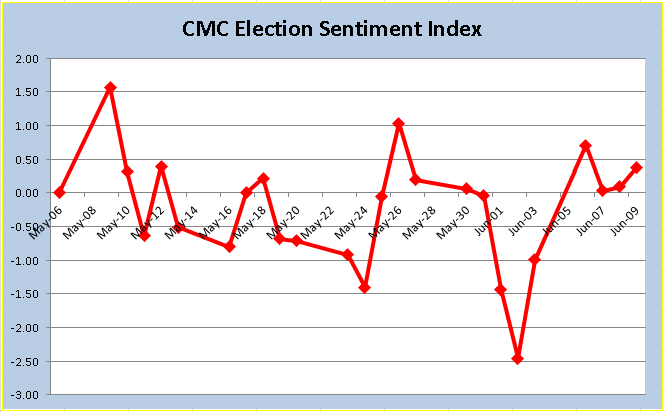 The first readings of the ESI after the May 8 announcement showed a positive market reaction to the election. Although broadly foreshadowed, the certainty of a declared electoral calendar appeared to suit investors. Polls then started to show the gap between the two major parties closing to zero, and the index swung lower, as shareholders considered the spectre of another hung parliament.
Also weighing on sentiment were announced policies that target banks for reform, break up or interrogation. With financial stocks comprising around half of the value of the share market, it remains a sector highly sensitive to policy announcements.
Interestingly, the ESI responded to a period of little campaign news flow last week with a gain, confirming that as far as markets are concerned no political news is good news. Superannuation policy remains a focus, as it will hit investor sentiment both directly via the banks and fund managers, and indirectly via the activities of SMSF investors in light of any changes.  
The ESI tracks the hits and misses from politicians of all shades, and their market effects, as we countdown to the July 2 poll.
The chart used is for illustrative purposes. It is not intended to suggest how an underlying asset might perform.