The Australia 200 chart goes into the release of China's GDP data poised at resistance. Here are bullish and bearish scenarios depending on how the data falls
China's GDP data has a history of coming in very close to market expectations. The last 4 have been either bang on expectations or 0.1% higher. This means the market could react to very small deviations from expectations today. Expectations are for year on year growth of 6.8% . So 6.9% is likely to be taken positively while 6.7% could be seen as bearish.
The market goes into today's number having rallied around 8% off its late September low. This has been partly driven by a view that previous nervousness about China's economy was overdone. Normally this would create potential for a buy the rumour; sell the fact outcome where the figure is in line with expectations. However, a relief rally looks possible if the number is in line today. The market is not expensive at the moment and combined with mounting expectations that the Fed will not lift rates in December, many will be aware that markets could be setting up for a traditional year end rally.
Bearish Australia 200 chart scenario 
In the bearish chart scenario, the Australia 200 would back away from current resistance confirming an ascending triangle pattern. This could set up for a return to the triangle support or even a break below
I will also be on the look out for the possibility of a minor false break above this resistance. A trend peak not far above 5311 would occur below the upper Bollinger Band. The previous peak was above the upper band. This indicates declining momentum and the potential for either a move lower or more sideways drift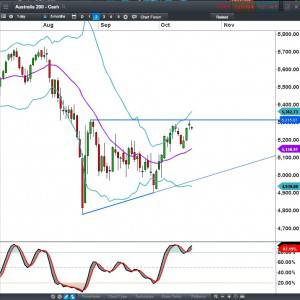 Australia 200 CFD Daily
Click to Enlarge
Bullish Australia 200 chart scenario
If Australia 200 breaks well clear of this 5311 resistance, then an eventual rally to around 5550 looks a possibility. This level has a fair bit going for it as potential resistance including:
The 200 day moving average
The resistance of a potential trend channel
An ab=cd level where the next rally would be the same size as the one leading into it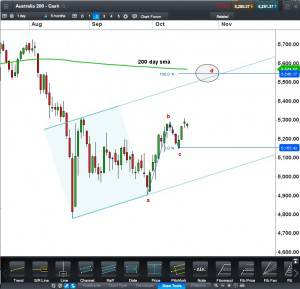 Australia 200 CFD Daily