Chart signals are an afternoon version today but are designed to provide a big picture over view that is relevant for tonight's trading session
The commodity rally paused last night with key markets like oil and copper falling. This has seen caution return to risk markets as traders wait on tonight's US oil data and the ECB meeting on Thursday
Indices and shares
Australia 200: At this stage, the daily candle looks like starting to make lower highs and lower lows from the harmonic AB=CD level with the RSI rejecting channel resistance. This needs confirmation. Today's candle could yet make a higher high. If a trend peak is confirmed, the 5046 support becomes important.  A break below this support could be bearish. If the market keeps pressing higher, the 78.6% retracement may be the next test.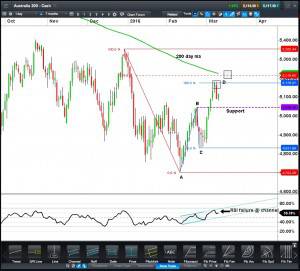 Chart signals.
Australia 200 CFD Daily
Fortescue
FMG has become a bit of a sentiment indicator given recent volatility. After peaking at the 38.2% retracement yesterday, Fortescue has bounced out of Wednesday's gap. If a trend low is confirmed here it will set up for a corrective rally of yesterday's decline. This could see a retracement to the 61.8% or 78.6% retracement levels around $3.07/$3.13. A break below the wedge support on the slow stochastic might signal the next leg down in the larger correction.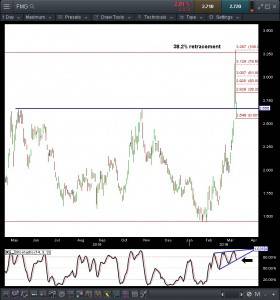 FMG: ASX Daily
Germany 30: Beginning to trend lower and was testing the 50 day moving average last night. A break below 9570 support pushing the RSI back below 50 would be signs of weakness.  Friday's peak at 9900 now provides resistance.  A break above that could see a test of the harmonic level and 50% retracement around 10010/10070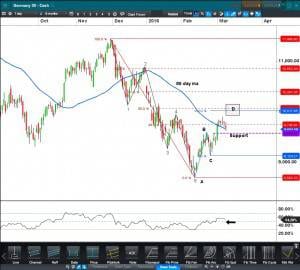 Germany 30 CFD
Daily
US SPX 500: Much like Germany 30 is beginning to trend down from resistance.  A break of 1972 support pushing the RSI below 50 would be bearish. However, if this rally continues the harmonic level and 78.6% Fibonacci retracement around 2030/2042 may come into play.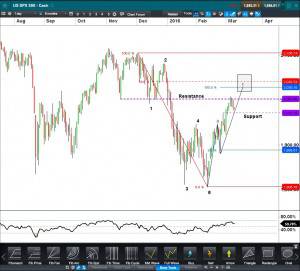 US SPX 500 CFD Daily
Forex
Aussie Dollar:  Not much change from yesterday. The Aussie continues to falter around harmonic levels centred around the 50% retracement level between .747/ .7510. Near term support is between .737 and .739. Major resistance is at the old lows around .7540.
EURUSD: Is note beginning to trend down from the 200 day moving average which remains resistance. Short term support on the hourly chart is around the 38.2% retracement at 1.096. The previous lows at 1.0825 are the next major support level
Commodities
Crude Oil Brent: Tonight could be interesting for oil with weekly US data due. The May 15 Brent chart peaked at the 50% retracement last night. A decline from here followed by a break of support at $36.27 would be the big picture bearish scenario for oil. If it continues to push higher, the 61.8% retracement around $44.70 will come into play.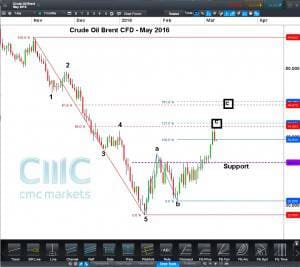 Crude Oil Brent CFD Daily
Copper: Has confirmed a minor peak at its 200 day moving average around $2.28 which remains resistance. A break below support a $2.14 would be bearish for a deeper move lower.