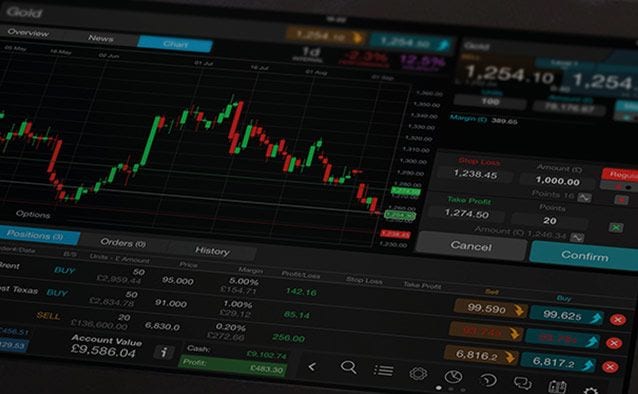 Here is today's wrap and chart signals
Index Chart Signals
US 30:  The short term up trend remains intact with daily candles continuing to make higher lows and higher highs. The current trend has moved through the 78.6% retracement level. However a trend line drawn across the peaks of 19 May and 23 June intersects with yesterday's high. IF price fails at level this would be confirmed as interim short term resistance. The RSI is above the 50% zone but last night started to track sideways suggesting potential for a pull back. The 200 day moving average now provides potential support around 17,735.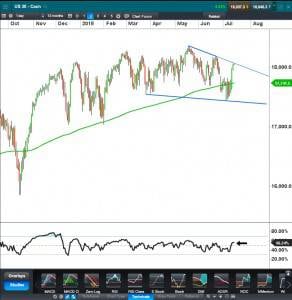 US 30 cash CFD Daily
Click to enlarge
Germany 30: The uptrend remains intact on the daily chart but price is yet to get convincingly clear of the 50% retracement level. As with the US 30, the 14 period RSI remains above 50 but last night showed possible signs of beginning to lose temporary momentum. The 23 June peak at 11,636 provides potential near term resistance and above that the 61.8% Fibonacci retracement at 11,731. The bottom of Friday's gap at 11,147 provides potential support. A quick move below this support to fill the gap would be short term bearish indicating exhaustion and potential for a deeper correction.
Australia 200: Continues in volatile range between 5382 and 5611. The daily trend remains up. However, yesterday's high peaked at the potential resistance of the 200 day moving average. A  clear break above resistance at 5611 and the 200 day moving average would be a positive development. This would see the 14 day RSI tracking north above 50. The 78.6% Fibonacci retracement level might provide initial resistance above this level at 5,636. The first significant support on the hourly chart looks to be around 5544.
Hong Kong H Shares:  This index is based on mainland Chinese stocks that are listed in Hong Kong. Yesterday the daily candle made a lower high but is yet to confirm a change of trend by making a lower low as well. After a steep rally in recent days, this index has moved into the potential zone of resistance around its 200n day moving average at 12,154. If there is a trend change around this resistance zone it could signal a pullback and correction of the recent rally. The previous low at 10,711 represents support.
Forex Chart Signals
AUDUSD: Is now showing signs of tracking sideways. Resistance is at .7497 and support at .7372. It may take a break out of this range to establish direction. In the meantime, the current range may establish a chart pattern, with a triangle pattern looking an early possibility on the hourly chart.
EURUSD: The daily candles are still making lower lows and lower highs meaning the short term trend is down. However, as with Aussie Dollar, the momentum is weak at present and there is potential for sideways drift. The next test will be last week's low at 1.0916. However, a test of the late May low at 1.0819 and an AB=CD level just below that at 1.0777 also looks possible. Last Friday's high provides resistance at 1.1216
Commodity Chart Signals
Crude Oil WTI: A big reversal last night now sees a short term uptrend established on the daily chart. Last Friday's high at 53.72 now becomes an interesting level. If this is taken out, it's possible we may be in for a rally to correct the whole move down from 61.54. However, if oil fails below 53.72, we could also be in the process of developing a triangle pattern as with Aussie Dollar. Last week's low at 50.44 continues to provide potential support.
Gold:  Gold is in a short term downtrend in the daily time frame but bounced neatly off the 78.6% retracement at 1151.17 on Monday. Since then it has drifted inside the range of Monday's candle. $1151 now provides support and a break below this level would be a sign of ongoing weakness with potential for a test of (or break below) the previous low at 1147. The recent peak on the hourly chart provides initial resistance at $1159.9