Here are today's chart signals
Australia 200. The downtrend in the daily time frame could be reversed with today's candle making a higher low and a higher high. However at opening this morning, the Australia 200 is baulking at the 50% retracement of the decline from 5153 to 4960. If price does start to fall away from here, potential buyers might get a short term correction to buy into. (I'll post any updates on this to the chart forum on our CFD platform) In the bigger picture, last Thursday's peak intersects with the low of 2 November and represents possible initial resistance around 5150.
US SPX 500 rejected the 38.2% Fibonacci retracement and 50 day moving average with a strong bullish engulfing or key reversal candle. This is a large green candle indicating a close well above the open. In a key reversal the day's trading opens below the previous low with the sellers in charge. It then finishes above the previous high with the buyers in charge. Despite this high momentum rejection of the 38.2% level, it may pay to keep in mind that the move to the 38.2% retracement is often just the first leg in a deeper correction. Signs of this rally peaking below the recent high might be significant.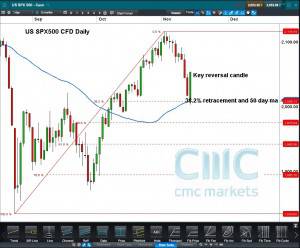 US SPX CFD Daily
Click to Enlarge
Germany 30. A large green candle here as well. It's also a bullish engulfing candle but unlike the US SPX 500 has not yet cleared the previous day's high. It's also still well above the 38.2% Fibonacci retracement. This indicates that any peak below the previous high and 200 day moving average around 11056 may yet lead to a deeper downward correction.
Gold. Yesterday's candle made a higher high but finished with a long upper wick and a closed near its low. This suggests the short term up trend may be under threat. Failure to move above yesterday's high and a lower low today would see the market trending down again in the short term and possibly setting up for another test of the $1072.78 low
Crude Oil WTI is showing signs of baulking around yesterday's low and the 78.6% Fibonacci retracement of the $37.35 – 50.80 rally. This would be confirmed by a move above yesterday's high, setting up for a corrective rally. If the current rally does fail then $39.65 becomes another level of interest. At this level, the swing down from $48.13 would be the same size as the swing from $50.80 to $42.31
AUDUSD has again backed off trend channel resistance. Another test of the channel support is possible from here. In the meantime though, I will be alert to the possibility of a partial pull back into the channel setting up a bullish head and shoulder pattern. This might be completed by a break above the channel resistance. If that happened it would also see the RSI indicating break above resistance at 50 indicating ongoing bullish momentum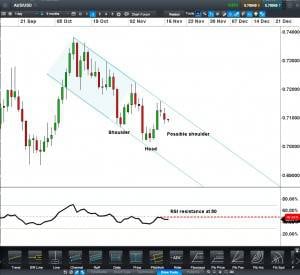 AUDUSD CFD Daily