C

hart of the week – EUR/USD

Potential short-term recovery for EUR/USD

Short-term technical analysis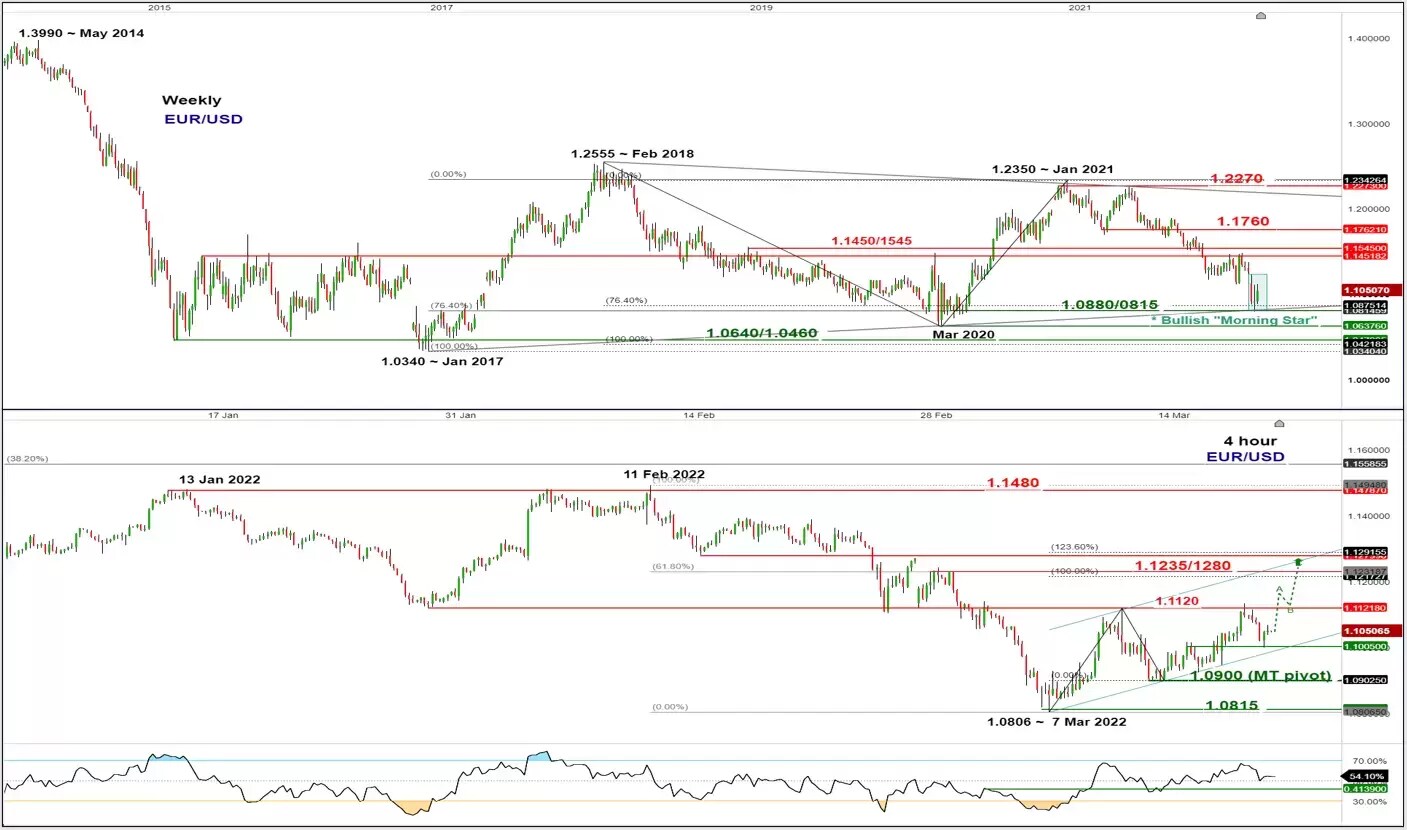 Time stamped: 20 Mar 2022 at 8:00pm SGT (
click to enlarge chart
)
Source: CMC Markets
The 12-month plus of downtrend that has recorded a loss of -1,540 pips for the EUR/USD from its January 2021 high of 1.2350 has reached a major support zone of 1.0880/0815 (it printed a low of 1.0806 on 7 March 2022.
The 1.0880/0815 major support is defined by the lower boundary of a multi-year range configuration in place since January 2017 low of 1.0340 and a cluster of Fibonacci retracement/expansion levels (see weekly chart).
In addition, the price actions of EUR/USD have formed a weekly bullish "Morning Star" candlestick pattern last week that indicates a reversal in sentiment (from negative to positive) which in turn may kickstart at least a potential tactical rebound in the coming weeks.
Short-term upside momentum remains constructive as the 4-hour RSI oscillator has continued to hover above a key corresponding support at the 41% level. Watch the 1.0900 key medium-term pivotal support and a break above the 1.1120 intermediate resistance opens up scope for a further potential up move towards 1.1235/1280 (the former minor support area from 15 February/22 February 2022, the upper boundary of the short-term ascending channel that is evolving since 7 March 2022 low & a cluster of Fibonacci retracement/expansion levels).
On the other hand, a break with a 4-hour close below 1.0900 negates the bullish tone for a slide to retest the 1.0815 major support.