C

hart of the week – GBP/JPY

Potential bearish move for GBP/JPY to retest key support (short-term technical analysis)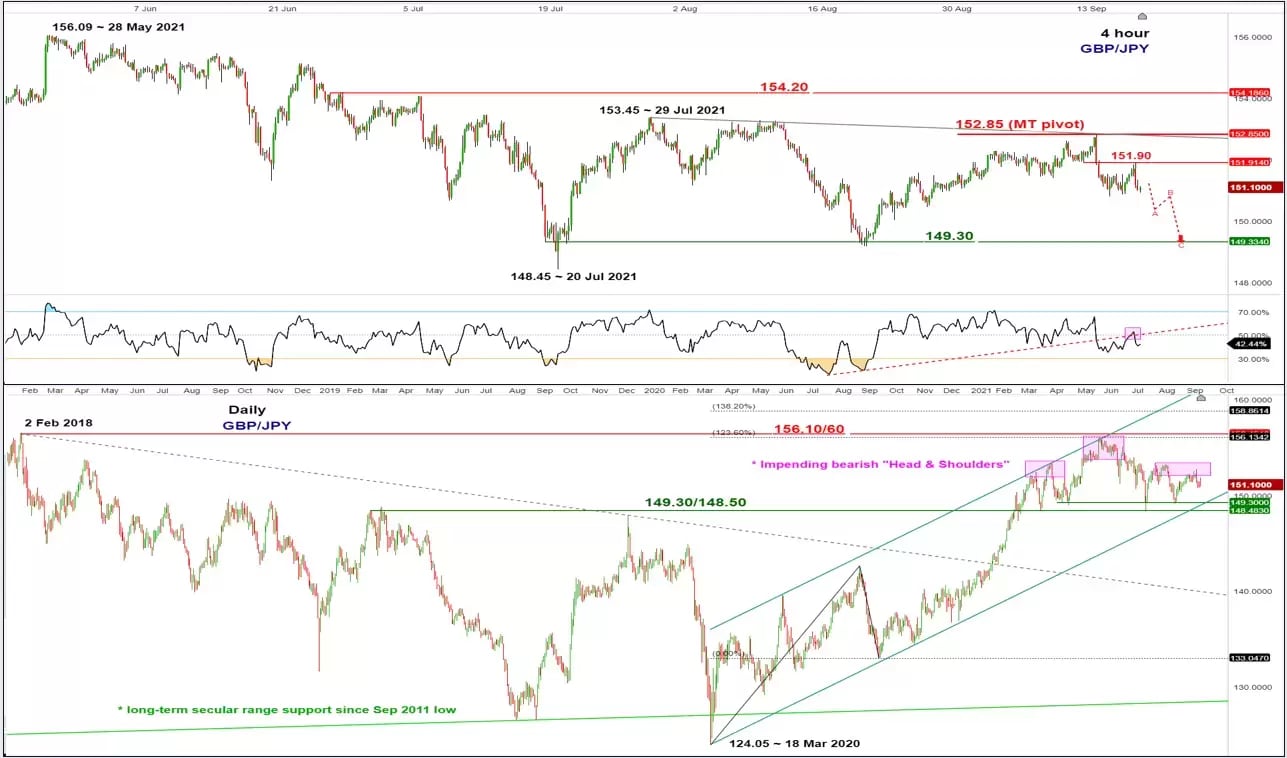 Time stamped: 19 Sep 2021 at 11:30am SGT
Source: CMC Markets (click to enlarge chart)
A mega week ahead for global monetary policies where we have three key central banks meetings pack into the week starting 20 September; Bank of Japan (Wed), Fed FOMC and Bank of England (both on Thurs).
The GBP/JPY cross pair has traced out an interesting technical analysis configuration ahead of the aforementioned key monetary policies' decisions which may lead to a higher volatility environment before and after these decisions are being announced.
In the longer-term (see daily chart), the GBP/JPY has traced out a potential impending bearish reversal "Head & Shoulders" configuration since its price actions hit a 52-week high of 156.09 on 28 May with its corresponding key neckline support zone of the configuration at 149.30/148.50. This observation suggests that the major uptrend phase from 18 March 2020 low of 124.05 may have reached an exhaustion point which may tigger a potential multi-month corrective down move via the breakdown of the 149.30/148.50 key neckline support.
In the shorter-term (see 4-hour chart), momentum remains bearish as depicted by the latest observation seen in the 4-hour RSI oscillator where it has retested and retreated off a key corresponding resistance at the 52% level. In addition, price actions have remained below a descending range resistance in place since its recent 29 July high.
Hence, if the 152.85 key medium-term pivotal resistance is not surpassed to the upside, GBP/JPY may shape a further potential push down to retest the 149.30 upper limit of the neckline support of the "Head & Shoulders" configuration. On the flipside, a 4 hour close above 152.85 negates the bearish tone for a squeeze up towards the next resistance 154.20 (also a cluster of Fibonacci retracement & expansion levels).