Chart of the week –Tesla (TSLA)
Tesla (TSLA) at risk of a further potential drop to retest 4-month range support
Medium-term technical analysis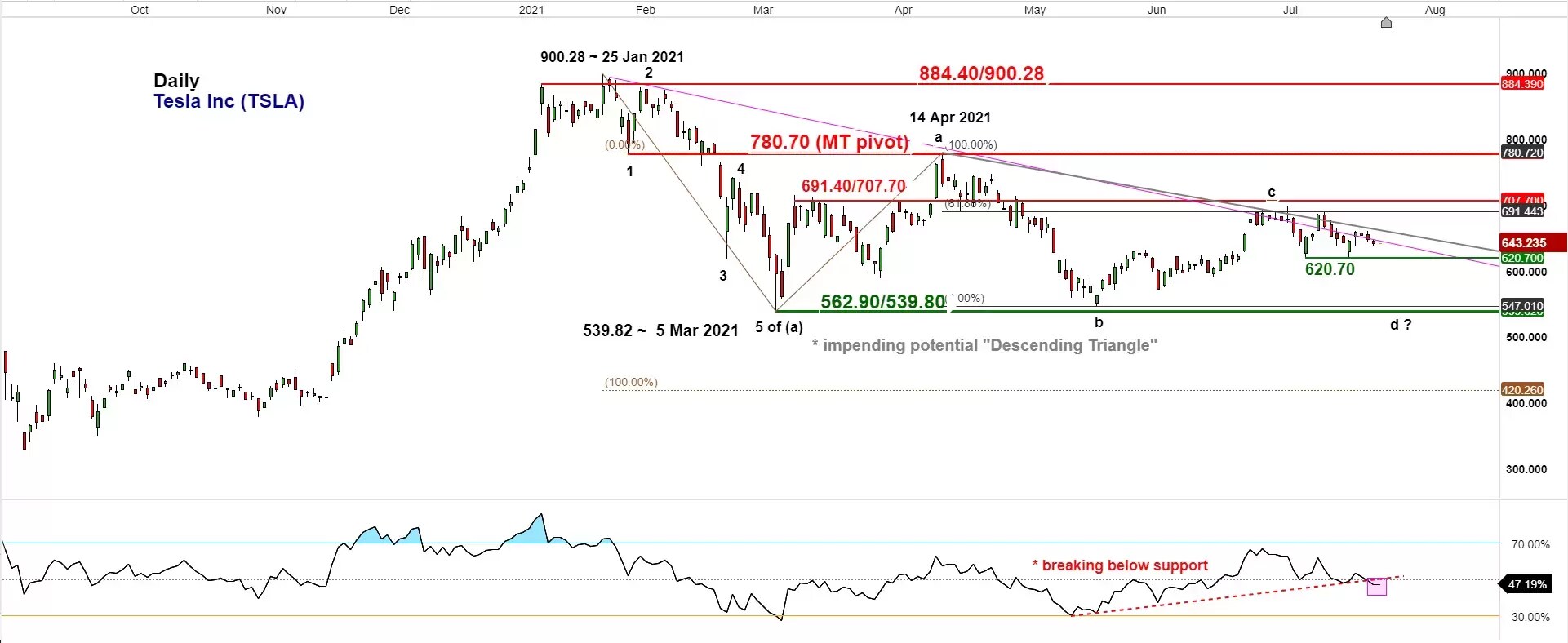 click to enlarge chart
Time stamped: 25 Jul 2021 at 2:00pm SGT
Source: CMC Markets
After a plunge of -40% from its current all-time high of 900.28 printed on 25 January 2021 to a recent low of 539.82 on 5 March, the share price of Tesla Inc (TSLA) has continued to evolve within a 4-month medium-term "Descending Triangle" range configuration in light of its impending Q2 earnings result release on Monday, 26 July after the close of the US session.
Its recent price actions since 24 June high of 697.60 has retested and shaped a series of "lower highs" right below the upper boundary of the "Descending Triangle" that acted as an immediate resistance at around 691.40/707.70.
In addition, the daily Relative Strength Index (RSI) has flashed out a bearish breakdown below a significant corresponding ascending support at the 50% level in place since 13 May. These observations suggest the lack of upside momentum and the risk of a further drop in price action increases at the juncture.
Watch the 780.70 key medium-term pivotal resistance and a break below 620.70 intermediate support may see a further drop to retest the "Descending Triangle" range support at 562.90/539.80. On the other hand, a daily close above 780.70 invalidates the push down scenario for a squeeze up to retest the current all-time high area of 884.40/900.28.