Market reaction to last Janet Yellen's recent speech continued to play out last week. This shows just how much this speech changed the consensus outlook. Adjustments continued to percolate through stock, bond and currency markets.
In local markets, the bank sell-off has been the other dominant issue recently. The market is moving towards a binary outcome here. Either banks will suffer a major deterioration in bad debts or their shares will prove to be cheap at current valuations.  News that Arrium has been put into administration is not a great start for the bulls. However the banks' $1bn exposure to this Arrium is not enough by itself to sustain the kind of earnings downgrades implied by current valuations.
Janet Yellen's speech was reinforced by the FOMC minutes last week. The Committee made it clear that weak global economic conditions are a major driver of their cautious stance towards lifting US rates. The global influences on the world's largest economy are dictating the need for a fair degree of convergence between central bank policies. This year, US Dollar bulls had expected far more divergence between the Fed on the one hand and the ECB and Bank of Japan on the other.
Market views on convergence are a two way street. It's also about the growing view that the BOJ and ECB are very close to the end of their stimulus cycles. The USDJPY chart broke support last week. The Yen rally is as much about a view that the BOJ has limited capacity to prevent its currency rising as it is about Fed caution on rate hikes. The Yen rallied after the last round of stimulus. Once bitten twice shy, the BOJ may be cautious about a follow up in the near future.
The BOJ may attempt direct intervention in the currency market but this usually requires finesse and timing. Trying to outgun the weight of private capital flows when markets are in full flight is too expensive and often ineffective. These days' central banks generally seem to be try to maximise value for money when it comes to intervention. They like to give markets a push in the opposite direction when they are showing signs of running out of steam any way.
The Yen chat does not reflect that situation yet although it may be getting close. USDJPY has broken out of a much watched triangle pattern. This is a classic indication of trend continuation. Chartists often project the height of the pattern from its base to determine a potential target following the break out of a triangle pattern. That would imply a move to around 107 yen. This is backed up by significant support on longer term charts at around 106. If these levels are reached, the Dollar will have fallen about 15% from last year's peak against the Yen.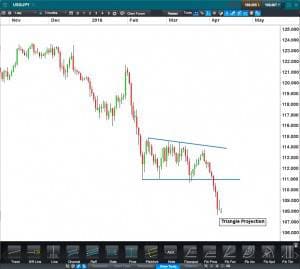 USDJPY CFD Daily
Click to Enlarge
The impact of the convergence theme on stock markets is pretty clear. As the chart below shows, US markets have outperformed since the Yellen speech. They are enjoying the prospects of a lower currency and ongoing low interest rates. The US profit reporting season which gets under way next week will be the next determinant of how S&P 500 holds up. Expectations are for earnings to be down by about 7.5%, dragged lower by weak energy and commodity prices and the knock on effects of lower capital expenditure on other industries.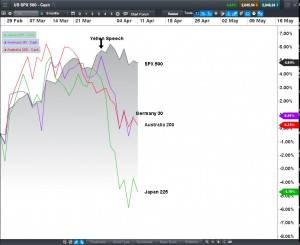 Index CFD Comparison
In Australia's case, the latest episode of divergence with US markets actually began a few days before the Yellen speech. This was primarily about the sell- off in the big 4 banks.
CBA has now hit a chart support zone. This support has seen the stock bottom 4 times since mid 2013.  This time around it's arrived at this support with pretty strong downward momentum, suggesting a decent chance it may have further to go. That might bring the 50 % retracement level at the lower side of this support zone around $69/$69.50 into play.  At that level CBA will have lost half the gains it made between 2012 and the $96.27 peak last year.
CBA is now trading at around 12.7 times forecast earnings and a franked dividend yield of about 8.5%. That looks unsustainably attractive compared to current 3 year bond yields of 1.85%.  This will need to be resolved either by earnings and dividends falling quite significantly or by the share price rising. Given the markets' current volatile mood with frequent large directional mood swings , we may need to see evidence of earnings deterioration fairly soon to sustain current low prices. If there is bad news, the next potential chart support is around $65.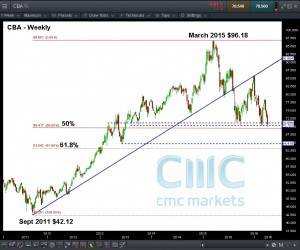 CBA.ASX Weekly