carsales.com is a high quality company in my view. However, with a price tag of 24.5 times forward earnings, the charting law that old support becomes new resistance might soon come into play.  
Background
First mover advantage has been very profitable for carsales.com shareholders. It has a dominant position in the Australian market and good international growth prospects, especially in Latin America.
However, the company's core Australian business is now mature. Most cars are sold or advertised online and carsales has the lion's share of the market. Some recent growth has come from its ability to levy annual price increases against dealer customers. However, there are queries over whether that will be sustainable over time. There is also the possibility of increased competition. None of this is a disaster. It is the price of success and was always going to happen.
However, it does raise the question of whether there is much potential for valuation expansion from current levels of around 24.5 times Bloomberg's forward earnings consensus.
Chart Review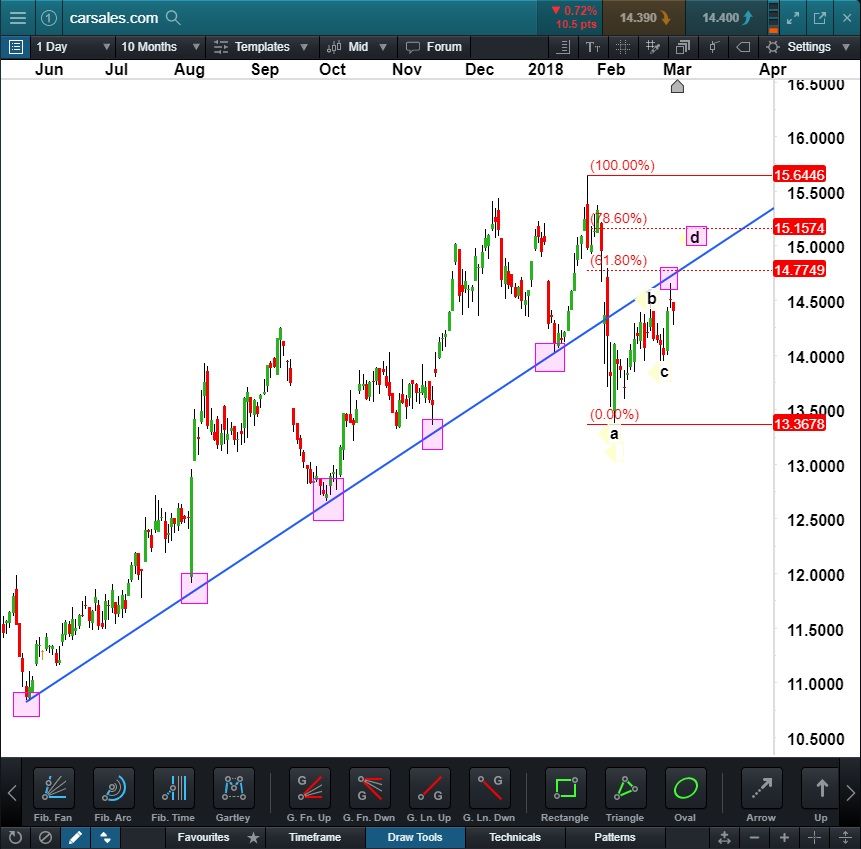 A clearly defined up trend line was established between May 2017 and January this year. During this time, the stock rallied from a low of $10.84 to peak at $15.64
This trend line was finally broken when carsales released its half-yearly result on 6 February.
It was a pretty clean result, although a little below some of the more optimistic projections. There may also have been an element of bad luck. The release came as the overall market was falling heavily on the back of higher than expected US wage growth.  Some investors were also a little dubious about the announcement that carsales has bought the remainder of its moderate growth Korean business.
Now that this trend line has been broken, it becomes potential resistance. I see two levels that could be potential turning points for carsales if it rallies a little further prior to going ex-dividend on 22 March.
The first is the old trend line which coincides with the 61.8% Fibonacci retracement around $14.80
The second is the 78.6% Fibonacci retracement. This could coincide with a harmonic ab=cd point around $15.10