Whitehaven Coal confirmed a stellar 12 month turn around with its half yearly results this morning. However, share market reaction has been a little nervous, leaving its chart precariously placed. Further weakness here could be a warning of a deeper correction getting under way.
Background
In the 6 months ended December 2015, Whitehaven Coal made a profit of $7.8m. Skip forwards a year and its profit was $157.5m.
Even better for some shareholders, its share price currently stands at $2.86 compared to a low of $0.36 a year ago.
Of course, this has mainly been about the spectacular and largely unexpected, increase in coal prices that's followed production cuts in China; Indonesia; the USA and Australia.
The chart below shows the Newcastle Global Coal Index which is one of the key prices for Whitehaven that operates 5 coal mines in North West NSW.
While the coal price is well above the lows of early this year, it's also lost a lot of ground in recent months which is why Whitehaven's share price has started to falter.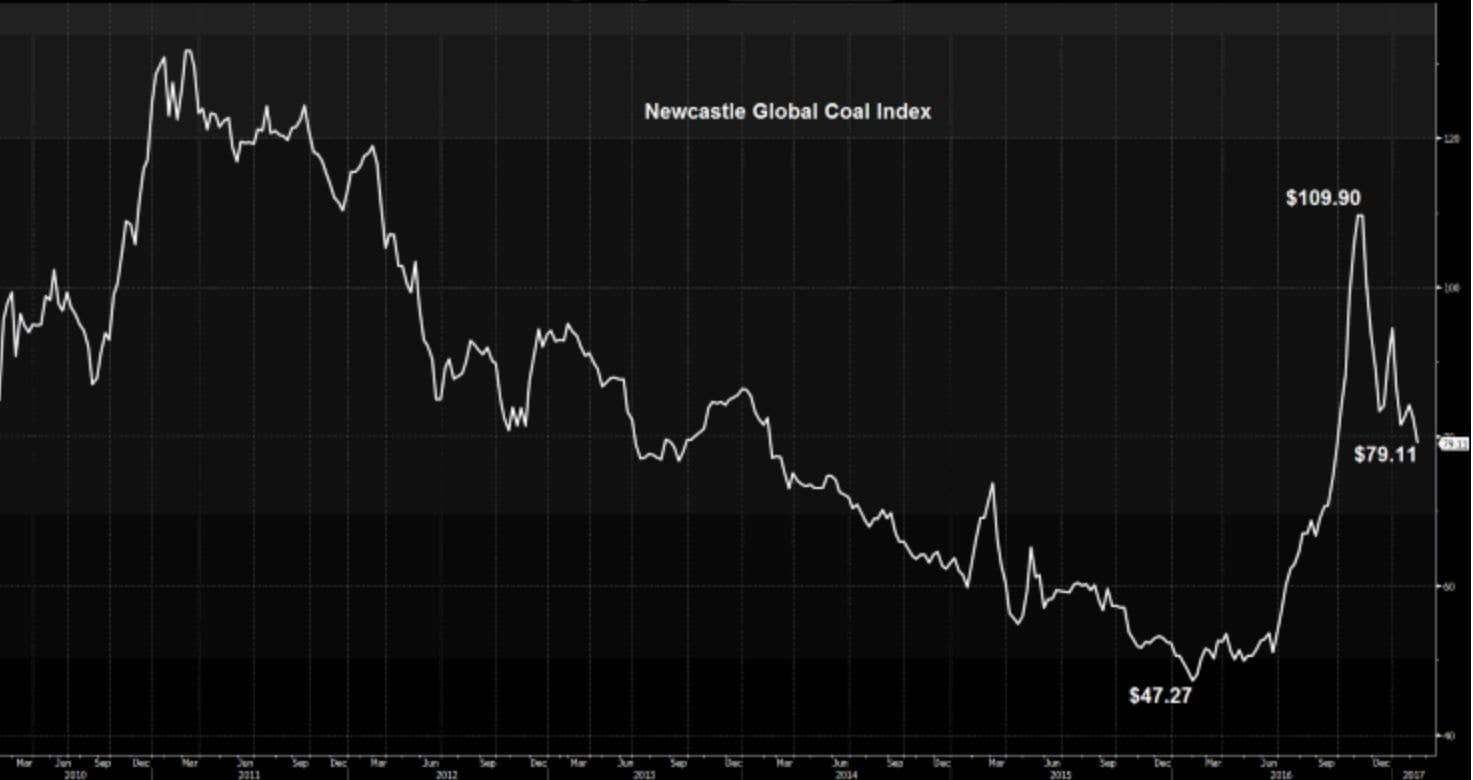 Source: Bloomberg
Whitehaven triangle pattern
Over the past couple of months, the Whitehaven share price has drifted sideways, forming a triangle pattern on the chart.
At this stage a clear break through the top of this pattern would be a potentially bullish development and this may still happen.
However, after the profit result today the share price faltered after a small and unconvincing move through the triangle resistance on Thursday. If it breaks the $2.81 support early next week, Thursday's high is going to look like the classic false break, with the triangle resistance holding again.
A break below $2.81 and a 3rd rejection of the triangle resistance is potentially bearish behaviour. This could lead to a break of the triangle support and resumption of the downward correction that began in November.