Strong momentum appears to be emerging in the Canadian dollar following the Bank of Canada's rate decision this week. The central bank made the decision to raise interest rates for the first time in seven years, to 0.75%. With further rate hike potential in the near future, the Canadian dollar is showing potential signs that its dominance and strength may be set to continue against most of its trading partners.
To examine the best options for capitalising on this movement, let's check out the USD/CAD, EUR/CAD and GBPCAD respectively.
USD/CAD is trending downwards on the daily chart. Not only is it trading below the 1.3000 psychological level, a daily support level of 1.2800 has been breached with the help of the interest rate rise. With strong selling pressure in the background, there is a real possibility that USD/CAD will test 1.2500, a low on the daily chart, in the coming days or weeks. On the 4-hour chart, 1.2800 is also inside the moving average sell zone (the zone between the declining 10 and 20 period moving average). If price retests 1.2800 and confirms resistance by forming a small bearish candle, then a trend flow short trade opportunity may emerge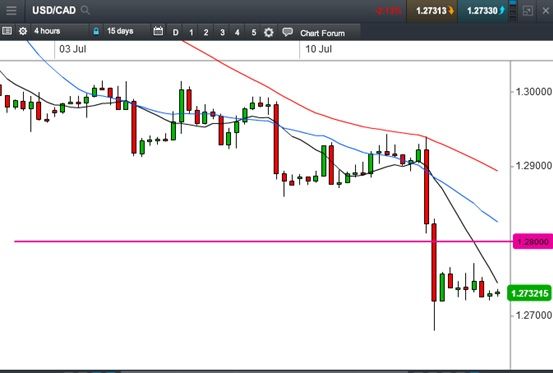 The EUR/CAD shows a similar trending fashion on the daily chart. Price action showed the potential signs of weakness yesterday, when it was unable to retest 1.4600 on the upside. On the bottom side, a flat level has formed at 1.4486 on the 4-hour chart, with two touches in a row. If price continues to consolidate around the current price and tests this level for a third consecutive time, then a 4-hour momentum breakout short trade may set up. The potential target would around the 1.4400 daily support level.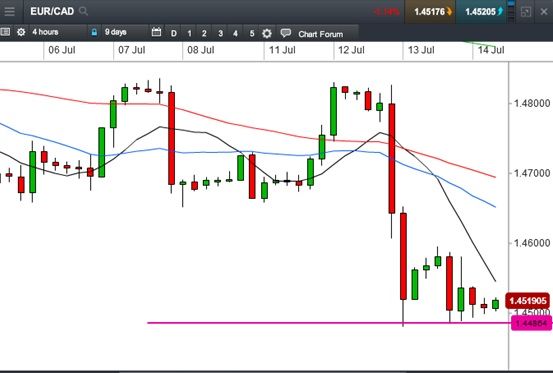 GBP/CAD is also a good candidate for a potential trade. The strong daily chart downtrend could imply that there is further downside potential to the 1.6200 support level – which is a potential 300 pip profit window. A resistance level of 1.6560 on the 4-hour chart is clustered with a 61.8% Fibonacci retracement level and it is inside the 4-hour moving average sell zone. If price retests 1.6550 and confirms resistance with a small bearish candle, then a 4-hour trend flow short trade may set up.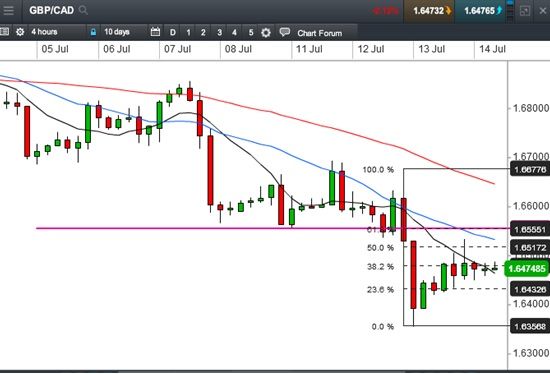 With both fundamental and technical reasons all pointing to the continued strength of the Canadian dollar, this may be the right time to keep a close eye on it for possible entries into this bullish trend.
Hao Sun