If the Brexit referendum and the chance of extreme volatility it entails is beyond your risk tolerance, here's a chart that may be of interest.
The relationship between the Aussie and Canadian Dollars should be fairly neutral to Brexit.
Both are seen as "commodity" currencies. Oil is Canada's main export while iron ore is Australia's. The US is, by far and away Canada's biggest export customer. Australia's biggest export customer is China. The next 2 largest are Japan and South Korea.
Factors that can influence the AUDCAD exchange rate tend to be:
The relative performances of oil and iron ore
The relative performances of the US and Asian economies
Domestic economic changes and expectations about the relative interest rates of Australia and Canada
None of these factors is likely to be immediately influenced by results of the Brexit referendum. There seems no particular reason to think AUDCAD will be swept up in any market volatility Brexit might cause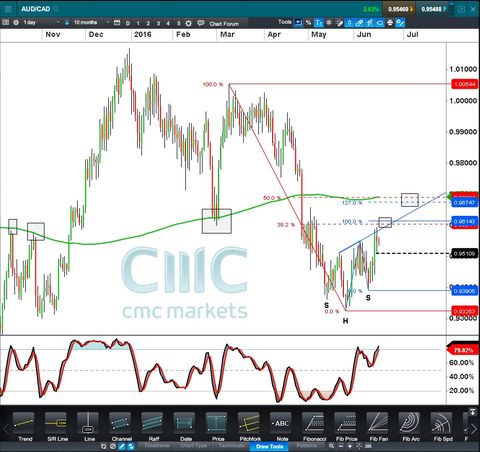 The AUDCAD chart is showing signs of peaking at what might be the neck line of an inverse head and shoulder pattern. Potential head and shoulder patterns often fail at the neck line. This could provide a sell set up.
There are a couple of possibilities here. One may be to fall away from current levels with a bearish close below yesterday's low. The other would be to push a little higher and then reject the 38.2% Fibonacci retracement level around .96. The potential significance of this zone is boosted by the fact that it's a harmonic level where the most recent upswing will be the same size as the last one.
If AUDCAD just rallies through this neck line there is another potential sell set up around the green 200 day moving average. As you can see, price has rejected the 200 day moving average on 3 separate occasions over recent months. This time around it coincides with the 50% retracement and the 127% harmonic level around .9690.