This has been a big downtrend. The Pound has been hit by the Brexit vote while the Aussie Dollar has ridden the wave of an unexpected resurgence in commodity prices. Chief among these has been Australia's main export, iron ore. Despite a bearish consensus outlook, the spot iron ore price is up 84% from its low in November (see my other post today on steel for more details)
However, the Pound is showing signs of losing downward momentum. Markets are becoming a little more sanguine about a no vote on Brexit. At the same time traders are getting trigger happy about the commodity rally. It's come a long way quickly and a pullback would not surprise.
Against this background, GBPAUD is in a downward sloping channel that could easily terminate the latest leg of this downtrend.
One approach here would be to buy, positioning for a break through the top of the channel and a significant upside correction.   A clear break through the channel support would represent a failure of this setup. That looks like the place to position a stop loss.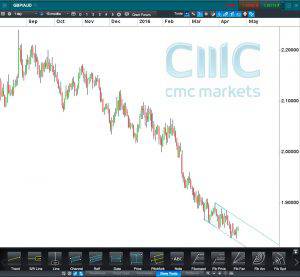 GBPAUD CFD Daily
Click to Enlarge