Looking at the list of stocks having the biggest negative influence on the Australia 200 this morning its' all about shares with a negative exposure to the stronger $A. CSL, Brambles, QBE and Ramsey Healthcare head the list
The Aussie Dollar tested resistance around .753 last night. At  the same time Brambles is approaching the support of a double top pattern around last week's lows at $12.20
A break below this support implies potential for a deeper correction. Potential levels for this could be:
The 38.2% Fibonacci retracement around $11.80. At that level, the move from the double bottom support would be 61.8% of the pattern height which you often see
The measured move of the pattern height from the break around $11.60
The 50% retracement and top of the recent price gap around $11.46.
The 61.8% retracement and the bottom of the price gap around $11.07/$11.12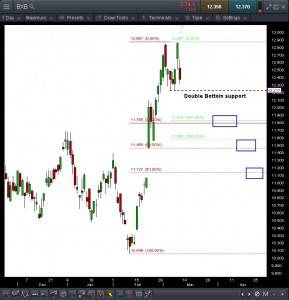 Brambles Daily
Triangle alternative
It always pays to see things both ways as a trader of course. If the support holds, this situation could also develop into a triangle or rectangle pattern. In that case a break through the top of the pattern could be a bullish development. This might coincide with the Aussie Dollar rejecting the current resistance and starting to move lower.