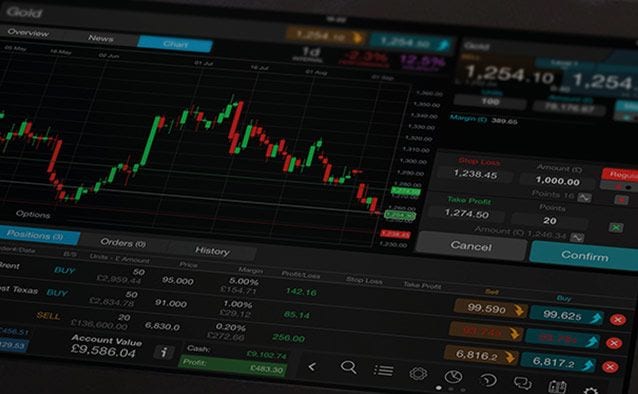 With USD being one of the heaviest traded currencies in the world of FX and with the major USD crosses representing some of the tightest spreads, it is no wonder that it is a currency with a great deal of focus put on it. Just because it has a lot of focus doesn't mean that it always has good trading opportunities or even good trading conditions.
This week however, I wish to focus on four USD pairs for the simple reason that they are trending and may offer me some great trades.
First, I want to comment on the mother of all the USD pairs and that is EURUSD. In the chart below it is clear to see that there are 'lower lows' and 'lower highs' which simply means a down trend is present. For me, well I would be happy trading on nearly all time frames provided the setup was strong and to the short side. If however, I was asked what would be my absolute favourite trade should it happen I would say a small bearish candle rejecting 1.3500. Why? Well, 1.3500 has been a strong level on this chart in the past and a test and rejection of that level on the daily chart would fit my set of trading rules.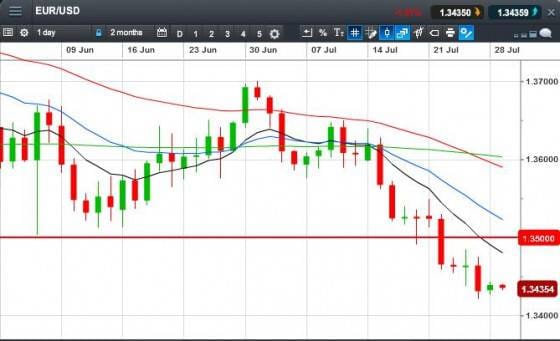 EURUSD Daily
The next pair is GBPUSD. It is in a great trend on the weekly! I really love how this weekly chart is setting up with a clear set of 'higher lows' and 'higher highs' running to the upside. As it is the start of the week I will have to wait and see if I get a trade on the weekly but this doesn't mean I can't be looking on the lower time frames for a possible entry into this bigger picture strong trend. I would only be looking to possibly trade GBPUSD on the lower time frames if price is  above the round number of 1.7000.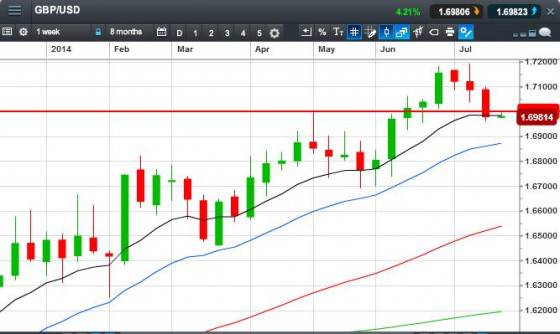 GBPUSD Daily
USDCAD is also looking strong this week with one key difference. There is a level of possible resistance around 1.0820 that will need to be cleared to the up side to really gain my interest. The daily has now set a 'higher low' and a 'higher high' and if the 1.0820 level is cleared then it may present some very attractive trading opportunities if price pulls back and retests it.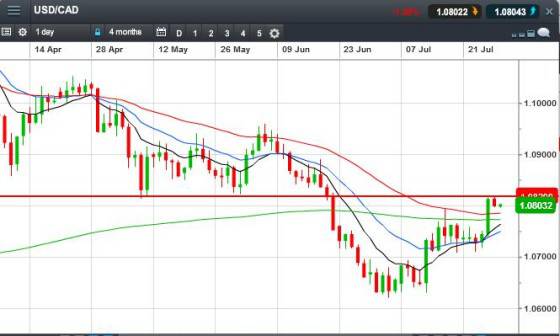 USDCAD Daily
Finally, I have USDCHF on my radar which I view very similar to EURUSD. The daily and weekly charts are now trending upwards and looking very bullish for the time being. I am keeping my eyes open for trades to the long side on USDCHF on the lower time frames but again, same as with EURUSD, if I was asked what would be my favourite trade should it set up I would have to say a pull back on the daily chart to 0.9000 with a small bullish candle. The 0.9000 level has been a strong level in the past and if I see any opportunities this week, or next, I will happily consider them.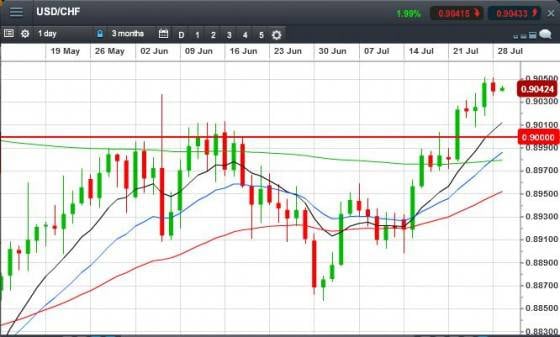 USDCHF Daily
So there you have my favourite USD based trends for this week and my plan for each. I hope you enjoy the post and have a great trading week.