What a great story this is on so many levels. Congratulations to those investors who bought around $30 or less a couple of years ago. Isn't it refreshing to be presented with an example of an industry other than mining where Australia can develop a competitive edge to take advantage of China's increasing prosperity?
Yesterday's announcement that Blackmores will combine its reputation and proven expertise in health products with our agriculture industry to produce baby formula in partnership with Bega Cheese certainly captured the market's imagination. Of course a stellar set of sales figures didn't hurt either.
However, a forward PE of 36 times earnings is not for the faint hearted. The fact that the market closed at $175 after peaking yesterday at $200 suggests some of those fortunate investors with large profits are taking advantage of the initial surge of exuberance in Blackmores share price to book some profit.
The long wick on this week's candle also suggests that the $200 high might be as good as it gets for a while. The weekly volume is shown in the box below this chart from our Stockbroking Pro Platform is solid but not exceptional compared to recent weeks. This also suggests that buying volume in response to yesterday's announcement has not been too remarkable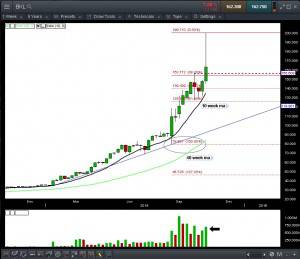 Blackmores Weekly
BLK:ASX
Click to Enlarge
Looking for useful features in this near vertical chart, the July peak around $157 stands out. This is close to the 38.2% Fibonacci correction of the rally off the long term trend line that began at $79 in August. The gap on the daily chart due to yesterday's strong open is also in this price zone.
So this $153/$157 zone might provide support.  A break below this would be a sign of weakness, suggesting potential for a deeper correction of the $79- $200 rally. In this case it may pay to look for signs that any of the following supports are being rejected as signs of a basing pattern:
50% retracement at $139.50
10 week (50 day) moving average around $130
61.8% retracement around $125.