Selling continues today and these stocks are now into a significant correction. Here are some thoughts on up coming chart levels.
Blackmores
Blackmores' chart flashed some useful warning signals when it showed bearish divergence with the RSI at the end of the"Santa Rally" late last year. This was followed by a break below the support of a minor double top formation.
While the overall Australia 200 index has pulled out of its early January tail spin, at least for the time being, Blackmores has extended its correction. On Friday, it broke clearly below its 50 day moving average. Apart for a couple of minor false breaks, this is the first break of the 50 day moving average since the Blackmores' bull trend started at about $35 early last year.
Today's low got close to the first significant Fibonacci retracement level at around $167. This 38.2% of the rally since the bounce off the 50 day moving average and trend line shown on the chart.
At the moment, downward momentum looks pretty strong with a big candle today. While this initial retracement level might hold, there's got to be a pretty significant chance it won't.
The next major chart level looks to be around $149-$157. This includes:
Horizontal support from the October high and mid November low
50% retracement of the last major rally
38.2% Fibonacci retracement of the whole rally from $34 to $221.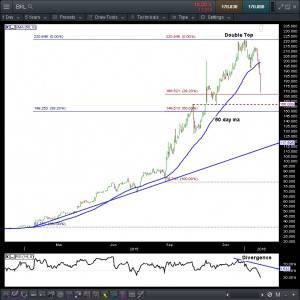 Blackmores Daily
Source: CMC Pro Platform
Bega Cheese
Bega Cheese is down 11% so far today after news that it has lost the contract to supply private label cheese to Coles supermarkets. The contract has awarded to Murray Goulburn.
The big rally in Bega Cheese got under way in September. As with Blackmores, the 50 day moving average acted as support for this trend but has been broken today.
Downward momentum is now strong but there is possible support around $5.88-$6.03. This picks up:
The late October high
50% retracement
The blue trend line
A potential AB=CD turning point as outlined on the chart
If this is taken out, the next level might be the March high and 61.8% retracement around $5.55 - $5.65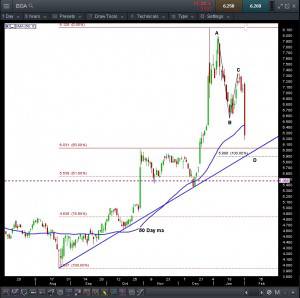 Bega Cheese - Daily