Next week the Bank of Japan will release a review of monetary policy - at the same time the US Fed's Open Market Committee is meeting. This review could see the BoJ change course, and may be part of a larger shift in policy from the globe's central banks following their meeting at Jackson Hole a fortnight ago. Naturally, any change in stance will affect global markets. 
Analysts are divided over what Governor Kuroda will present, and conclude. Recent comments that the BoJ could still expand asset purchases or cut rates deeper into negative territory have some speculating on a re-commitment to monetary stimulus.
Others point to the fact that  despite more than two years of pump-priming the Japanese economy  has failed to respond, and inflatioon remains well below the 2% target rate. While an increase in consumption tax is often characterised as a brake on consumer activity, it is an unlikely sole cuplrit of the economic malaise in Japan. Given the Abe governments expressed determination to restore economic growth, and high levels of co-operation with the BoJ, some infer that the BoJ is about to step back to make room for more radical fiscal policies.
There are a number of factors suggesting global central bankers are concluding the usefulness of any further monetary moves is very low; previous calls for fiscal responses, the ECB's pass on further measures last Thursday, and rhetoric from Fed officials that guided markets to a nearer interest rate tightening timetable, among them.
This meeting comes at an important juncture for AUD/JPY. The weekly chart above illustrates this position. The downtrend that began in late 2014 remains intact, but is heading toward the long term support around 72.00. If next's week's policy review moves away from stimulus, the JPY could strengthen considerably (and AUD/JPY fall), and the test of the long term support may come a lot faster than markets currently expect. 
The daily chart may inform trader tactics: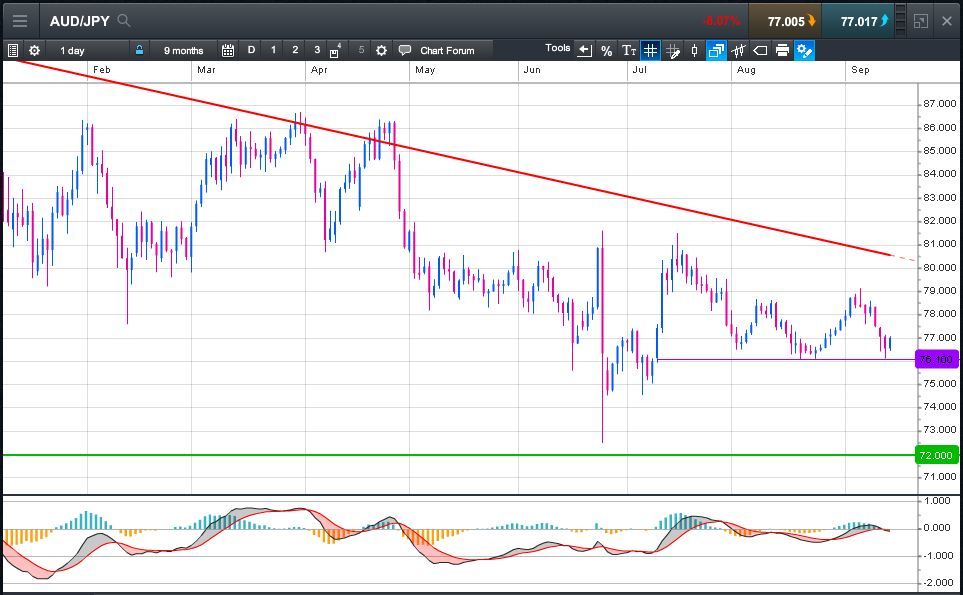 The MACD is crossing at the zero line, implying momentum is turning negative and simultaneously sending a sell signal. Some traders may sell on this alone, others will wait for a confirming signal, such as a breach of the shorter term support at 76.10. The earlier 2016 drop toward 72.00 stopped closer to 72.50, so some profit taking aropund 73.00 may bev warranted. However, dropping through the long term support could be a sign of much larger falls to come - a move the RBA would welcome.