BHP peaked last week at $25.05. That picks up significant chart resistance in the form of the January 2015 low and the 61.8% retracement of the whole move down from $32.04.
 With this resistance being rejected, the chances are a significant correction is getting under way. All this is starting with the slow stochastic up in the overbought zone, meaning that a correction could have decent momentum in the early stages.
Daily Chart
The next confirmation of a retracement would be for the daily chart to overlap below the peak at $23.87. As I write, it's perilously close to doing so. Given that BHP gapped lower this morning, there looks to be plenty of short term momentum so an overlap looks likely.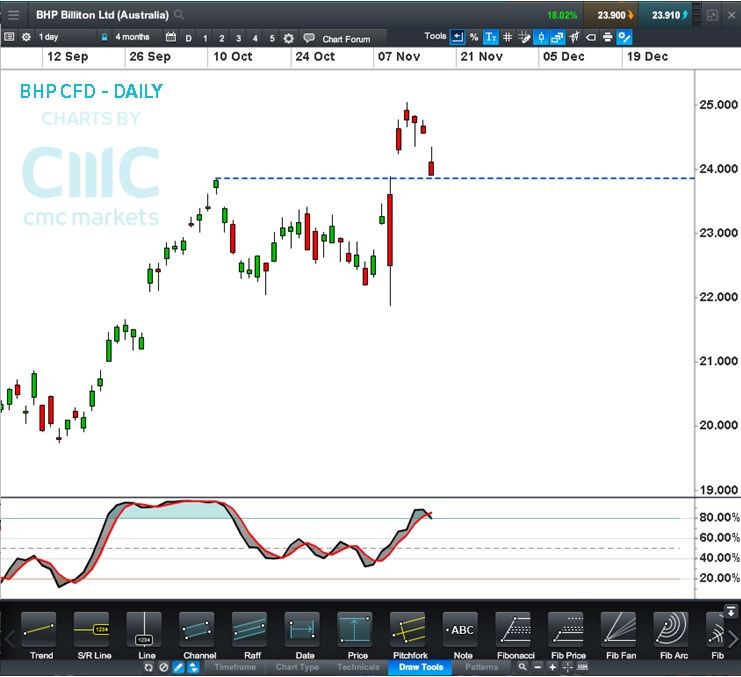 Potential Pull Back
If the correction continues, a move to the 38.2% retracement around $23 would not surprise. This is shown on the first weekly chart.
A correction like this would be consistent with a bit of a wait and see on the Trump Administration policies, especially since it's likely to be a long while yet before any plans for infrastructure spending translate into actual demand for steel and copper.
Higher prices alternative
As usual with markets, it pays to stay flexible. If the correction does not extend from here and instead, BHP takes out the $25.05 high, the trend channel resistance on the weekly chart might see a turning point. This comes in around $25.50.