Bendigo and Adelaide's share price is down more than 3% since the regional banks' credit ratings were cut by S&P. This sees it testing support in what could be a critical phase for the chart
Chart supports
There look to be 3 major support levels on this chart:
The current level which finds the support of the blue trend line and 40 week (200 day) moving average. This trend line has so far defined the major corrections in the uptrend off the $8 low in February last year.
$11.25.  This picks up the October 2016 peak and March 2017 low which was a neat bounce off the 38.2% Fibonacci retracement level
$10-$10.35. This peaks up the May 2016 peak and November 2016 low. It's also the 61.8% retracement.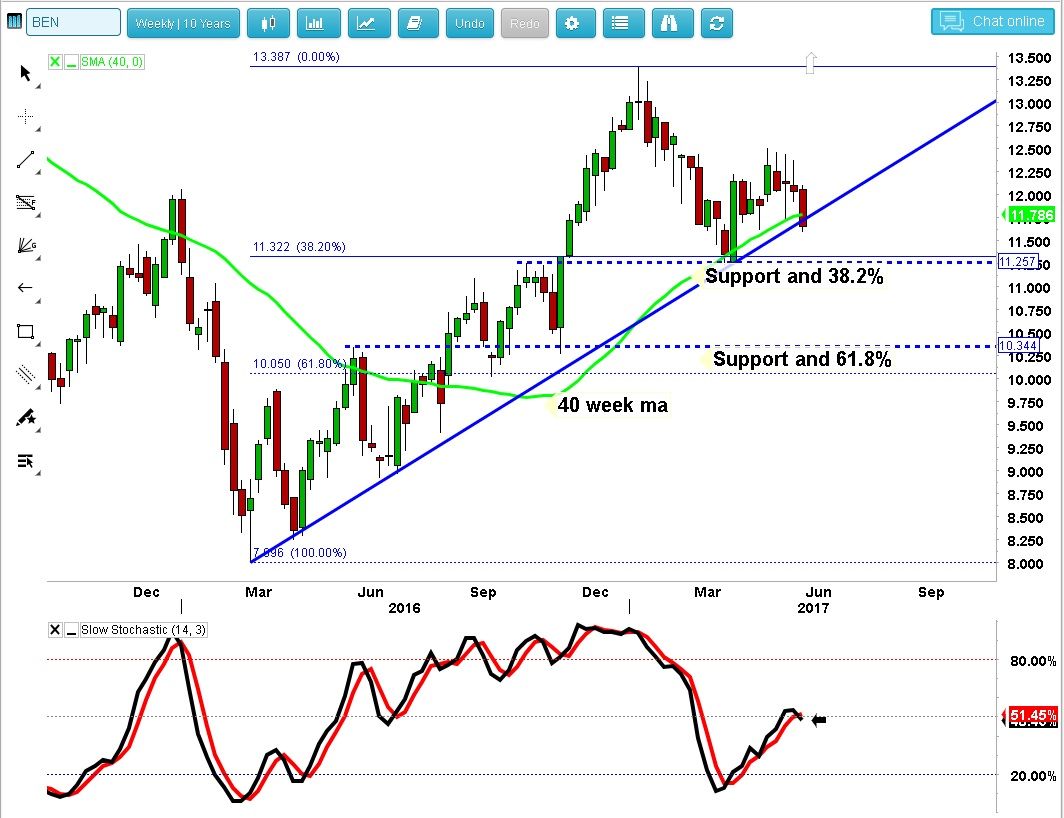 Chart Landscape
Price is testing the first support but hasn't really broken conclusively below it. A break below $11.55 would be starting to look pretty negative.
Ominously, the slow stochastic in the box below the chart has crossed under its signal line from around the 50% resistance level.
However, $11.25 looks like the important level. It's very common for markets to bounce off the 38.2% Fibonacci retracement; rally for a while but ultimately head lower in a deeper corrective move
A break below $11.25 would suggest this stock is in for a deeper downward correction, with the $10- $10.35 support becoming a real possibility.
It's all about housing
Bendigo is currently trading on a forward PE level of around 13 compared to the average of 12.6 that applied between 2013 and 2016
So it's only a little above average and from that point of view it would not be at all surprising to see either the current support hold or, if not that, for the stock to hold above the critical $11.25 level.
However, at 13 times forward earnings, Bendigo is well above bargain basement levels and there's definitely scope for a bit of a sell off if the market gets a scare.
US politics and the global macro situation might be one catalyst for this. However, the domestic housing market could be another. Bendigo's business is highly concentrated towards housing so any market concerns about deterioration in the housing market could deliver an 11-12% pull back to the lower support level.