Markets have reacted savagely to relatively modest forecasts of increased debt provisioning by ANZ and Westpac last Friday. Here's some background on the Westpac announcement and how this fits with the current chart outlook
Westpac - consumer and business banking update
The latest sell off was triggered by comments made at an analysts' briefing on Friday. The market impact was compounded by this coming on the same day ANZ forecast larger write downs. In both cases, these comments came not long after the banks' quarterly trading updates. This all combined to create potential concerns about a rapidly developing and industry wide deterioration in credit quality.
In Westpac's case, the things that concerned markets were:
Comments that problems with 5 resource companies could be large swing factors in upcoming profit results for its institutional banking business. Issues with these companies are currently being worked through.

Comments noting there is growing consumer stress resulting from the resource slow down. This is mainly evident in Western Australia. Consequently loan impairment charges in this area are likely to increase around 10% or $25m

These potential increases in bad debt impairment costs come at a time when competitive pressure on revenue growth in business and consumer banking is strong.
Historical perspective on loan impairment charges
Last year, the cost of loan impairment charges to Westpac was $753m. This compared to its total cash earnings of $7.82 bn.
Loan provisions peaked in 2009 at $3.25bn. This followed the GFC. An eyeball impression of the chart below indicates that bad debts have been consistently lower in recent years  while profits have risen. Various things need to be considered when interpreting this. Broadly speaking though,  some mean reversion would not surprise as the commodity cycle gets to the stage of forcing credit problems in some industries and regions.
Markets are already anticipating this. A representative view would be for Westpac's bad debt impairments to increase from around $750m last year to perhaps $900m in the current year.
However, with revenue growth low, there's not much room to compensate. The bottom line will be very sensitive to any further deterioration. News of 5 large resource customers with possible issues clearly concerned the market. With a dividend payout ratio of 75%, things would not have to get much worse to to cause flat or even falling dividends.
To keep perspective, Australian banks have limited direct exposure to mining stocks (2-3% of total loans). If mining related impairments rise, it will see some mean reversion in bad debt costs but this is a long way short of a major problem.
What is also good news, is that there is no sign of significant mortgage deterioration at this stage. Indeed, Westpac notes that 74% of its customers are ahead on mortgage payments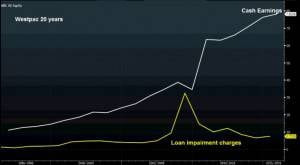 Westpac
Impairment charges v Cash earnings
Source: Bloomberg
Valuation
There has been plenty of volatility in bank stocks over the past year. This is shown by the big range of Foward Price Earnings in the chart below. A year ago, the market was prepared to pay 16 times earnings for Westpac. Six weeks ago, it was valued at only 11.2 times earnings
Today, Westpac is trading at 12.05 times earnings. That's 4.5% below the average for the last 12 months. Unless there is a further deterioration in the economy, this is starting to look cheap side although momentum could push things somewhat lower yet
Westpac Chart and short position
Based on the latest ASIC report , Westpac had the 2nd highest short positions of the big 4 banks as at 21 March. Short positions represented 2.4% of market capitalization and increased from 2.1% a week earlier. ANZ's short postions were at 2.8%, up from 2.5%
Westpac has taken out yesterday's low. A move below $29.50 would take it below the range of its 61.8% Fibonacci retracement.
Traders normally require evidence that strong downward momentum like this is ending before stepping up to catch a "falling knife" . I will be waiting for some signs of basing behavior, perhaps divergence. Right now, the slow stochastic below the chart is still falling hard.
Westpac may yet form a base around the 61.8% retracement ( at least temporarily). However, given current strong momentum, the 78.6% Fibonacci retracement around $28.90 is now starting to look more interesting, even if there's temporary bounce before we get there. Given relatively cheap valuations, any basing behavior close to the 78.6% retracement might easily trigger a round of short covering.
Keeping  an open mind to all possibilities though, a move below the January low at $27.69 would be bearish, requiring a re think on the buy for a bounce strategy.