The US SPX 500 index has returned to its elevated trading range, and is sitting less than 4% from its all time highs. Surprised? Thought the situation was more catastrophic? That would be the flood of "bear porn" that fills your screen everyday.
The reality is that bad news attracts readers. "Everything's OK" ranks fairly low on the click bait scale.  While there are some outlets that write about markets with care, integrity and intelligence, there are others who succumb to the easy temptation of continually predicting imminent market catastrophe - "bear porn".
Contrast the headlines with this chart: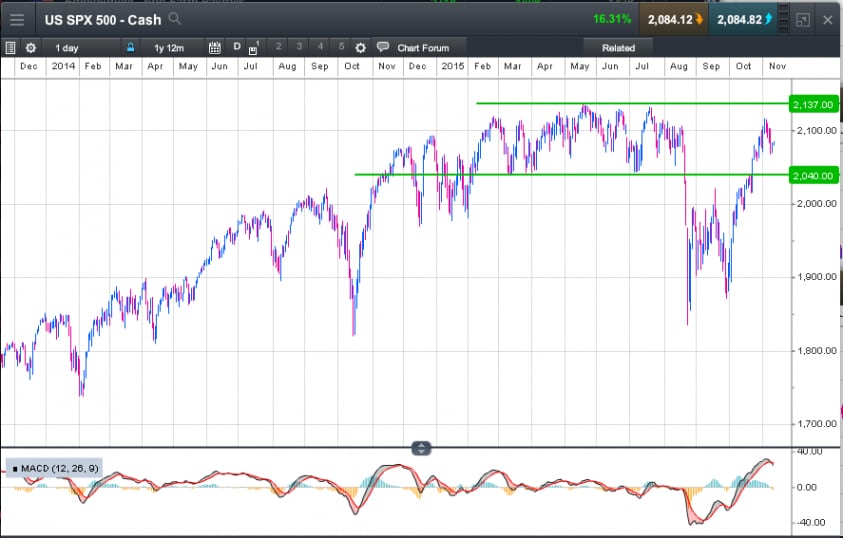 In a "blind tasting" many traders would interpret this chart as pointing to further sideways action, between the support and resistance at 2040 and 2137 (the all-time high).  The rollover in the MACD could see a pullback to support, before any higher levels are reached. Nonetheless, this is a ranging market until proven otherwise.
I'm reluctant to explore this too much further in fear of offending the reporters I read, admire and even count as friends. However, the psychology of it is fascinating. If you're always on the sidelines, never sharing in the riches, it's easy to let bitterness creep in, viewing every market sell off as a comeuppance for the "bad guys". This may explain why left leaning publishing houses are more inclined toward bear porn click-bait.
Regardless, the implications for traders are straightforward. Range trading the US SPX and discarding "one way" information sources could both lift profitability.