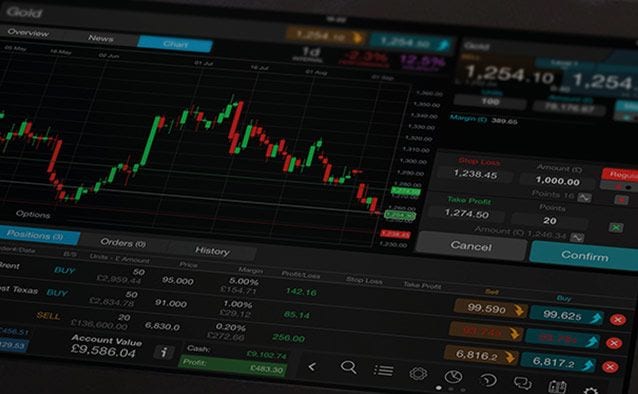 Beach Energy looks a chance of completing a bullish flag formation similar to the one I posted on Fortescue Metals last week.
The 2 formations are a little different in that the Beach flag is larger. In this case there is an argument for a more modest profit objective. I've posted some thoughts below
Flag Pattern Entry Strategy
The flag pattern highlights a situation where there has been an unusually steep rally followed by a shallow correction. During the correction price drifts lower but exhibits "range trading" behavior between parallel trend lines.
In this situation there is a reasonable prospect that the strong buying interest represented by the flagpole is not yet satisfied. Chances are the flag formation is a pause in proceedings, not the beginning of a deeper correction.  So a break of the flag resistance might see buyers return from the sidelines with another uptrend under way.
A standard approach to entry strategies with the flag pattern is to buy on an upside break out of the flag.  Having already made 3 touches of the flag support, the break out of this pattern would ideally happen on the next minor rally. If much more work happens inside this formation it will start to look more like a conventional channel.
A stop entry buy order, placed a little above the resistance line is one way of positioning for a break out.  Of course if price breaks under the support instead of through the resistance, there is no set up.
Daily Chart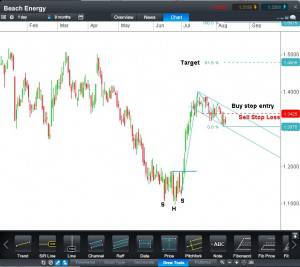 Beach Energy CFD
Click to Enlarge
Exit Strategies
In the post on Fortescue, I discussed the approach of setting a profit objective by projecting the height of the flagpole from the lowest point of the flag. Sometimes there is room for debate about where the flagpole starts. A conservative approach is to use only the really vertical lift into the flag formation. I've done this here and ignored the first part of the major rally. (By the way, pattern traders got a nice buy set up with an inverse head and shoulder to lead into the flagpole rally)
Even so,  the flag pole height is 28c representing a 25% rally in Beach Energy. With large flagpoles, some traders will use a more conservative target than the whole flagpole height. The strategy on this chart projects 61.8% of the flagpole from the bottom of the channel. 61.8% is the Fibonacci golden ratio which can be useful as a target for "partial" moves. I've used Next Gen's Fibonacci Price tool to calculate the target.
The initial stop loss is placed just under a minor support zone back in the body of the flag pattern.