Valeant Pharmaceuticals offers a useful illustration of how we can use chart signals to identify a potential short trading opportunity. However, while I like to focus just on the chart, Valeant also provides a good example of how news reports and an analysis of company fundamentals can be used to verify and amplify chart technicals.
The pharma company trades both in the US and Canada, but as it is headquartered in Laval, Quebec, I will reference the Canadian charts. Valeant's history dates back to the 1994 merger of ICN Pharmaceuticals Inc. with SPI Pharmaceuticals Inc., Viratek Inc. and ICN Biomedicals Inc. It was renamed Valeant in 2003. The company has more than 18,000 employees and produces a broad range of pharmaceutical products, as well as owning Bausch & Lomb, one of the largest manufacturers of contact lenses.
However, what seems to have been a sound and solid success story has recently been overshadowed by some serious questions over the way Valeant conducted their business in relation to its use of a pharmacy, Philidor, in an alleged multimillion-dollar fraud and kickback scheme. Those concerns, which have resulted in investigations by the SEC and saw criminal charges brought against former company officials last week, have over the last 14 months sent the stock down more than 90% from its previous high.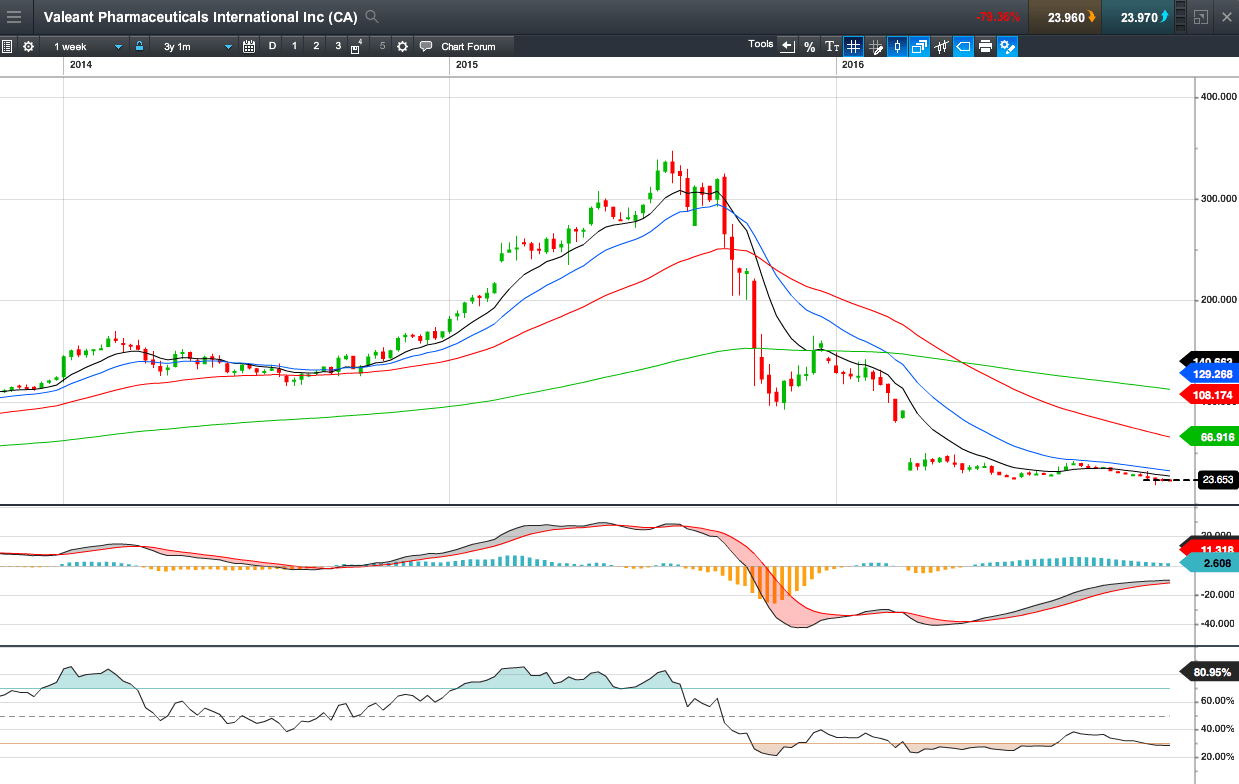 The weekly chart shows us this steep decline from 340 price levels in August 2015 to mid 20 levels today. The moving averages are well aligned and the price is close to the sell zone. Momentum has slowed down, however, as can be seen with the
MACD
and RSI indicators. So, we are still seeing a bearish picture, which might qualify as confirmation for a potential short setup on the lower timeframes.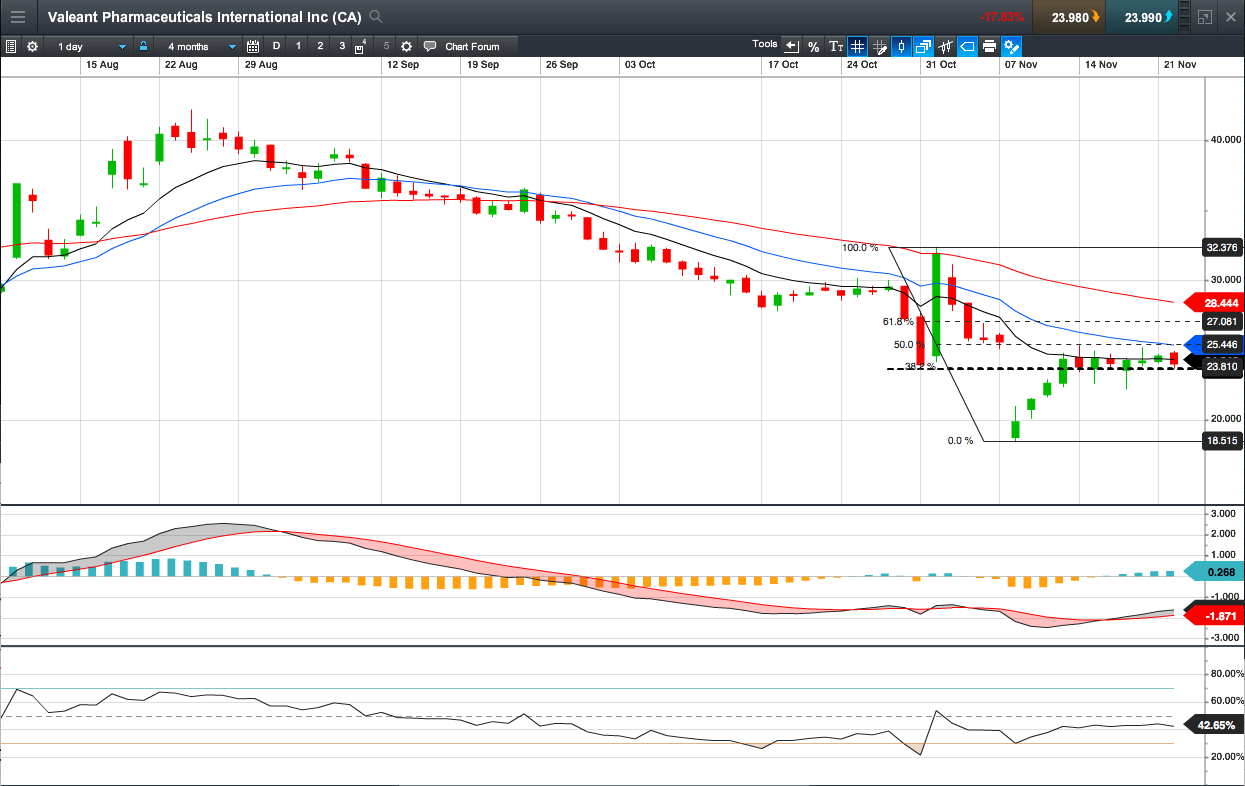 Looking at the daily chart, the picture becomes clearer and potentially also supports a short trade. The overnight gap on 8 November is the result of badly received earnings. However, since then, the market has pulled back to close this gap. This pullback brought prices closer to the moving average sell zone again. Since the pullback, we can see that Valeant has now established a narrow trading range, which also clusters with the 38.2% Fibonacci retracement.
The short setup that is potentially presenting itself on the chart here, is a Trend Flow short which is covered during our Next Generation Trader webinar series here at CMC Markets. Any break of the narrow range and the low of a bearish candle in the sell zone could be the trigger for a short trade.
The SEC investigation is likely to heighten the risk of price gapping. This week is Thanksgiving, so the US markets will be closed on Thursday 24 November, and we should see lower volumes on Friday. That adds to a greater risk trading through this period.
Have a great week & Happy Trading!
Philipp