Long term investors have a potential advantage over market professionals – perspective. Those who work on the market every day can sometimes be too close, missing the bigger picture. Investors who check their portfolio month to month or quarter to quarter often have a better grip on the major investment themes.
With December upon us, it's time to compare this year to last, and tease out the implications for 2016. Let's start with the daily chart: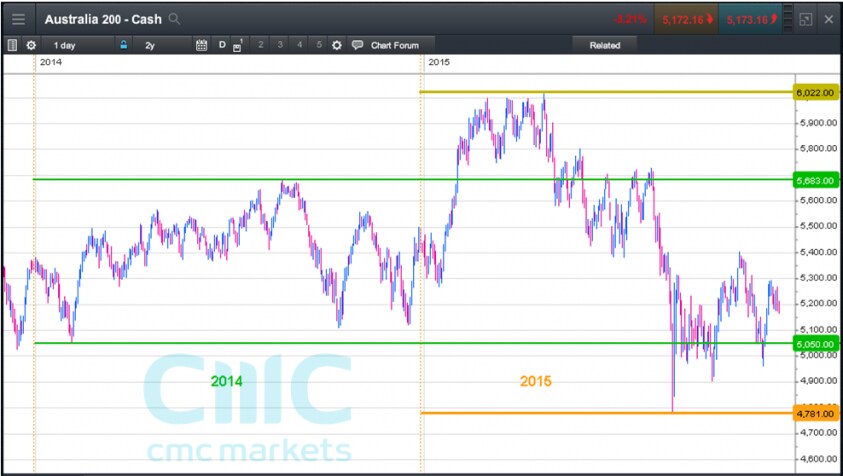 Placing the two years side by side gives the opportunity to compare the market action:
Highs and lows both increased in 2015 from 2014. The magnitude of these swings increased. In 2014, the high to low range was 633 index points. In 2015, the difference between high and low almost doubled to 1,241 points.
Volatility surged in 2015. The greater size of the daily ranges and the higher day to day swings offer visual clues to the sharply increased volatility in 2015. Measures such as the Historical Volatility and Average True Range confirm the impression many investors have of a more difficult year.
Both years traded broadly sideways, (likely) finishing within 5% of the previous year's close. The market is sitting in the lower half of the two year trading range.
The overall picture is consistent with a low growth environment. The performance over two years is flat to slightly down, although a dividend yield of around 7% (with franking) means even buy and hold investors are slightly ahead over the period.
The remarkable pick up in volatility in 2015 could be due to the changed tune from the US Federal Reserve. As the Fed moves towards a rising interest rate environment other central banks such as the People's Bank of China, the Bank of Japan and potentially the European Central Bank are all increasing their stimulus efforts. This creates cross currents in global investment flows, and contributes to higher volatility as investors respond to potentially market and central bank moving data.
The pickup in sensitivity to data means markets are also more vulnerable to shifts in sentiment. A string of strong or weak numbers may see analysts extrapolating, and re-pricing the outlook. While a stronger US economy is likely to drive a modest improvement in the global economy over 2016, share market sentiment could again fluctuate wildly around this central premise.
In short, there is a higher potential for the market to repeat its 2015 path, swinging between support around 4,800 and resistance at 6,000. A significant breach of either of these extremes would point to a new outlook, but the market is broadly sideways until then.
Therefore the highest returns in 2016 will once again likely go to active investors – those who take advantage of market swings, cashing in good gains and buying when sentiment is sour.
While the index is sideways to down for 2015, underlying sectors were considerably more volatile. The Energy sectors shed more than 35% peak to trough, and Industrial stocks as a group are up 20% since January. Drilling down yields some extraordinary stock performances. Blackmore's is up more than 400%, Slater and Gordon is down more than 90%.
These types of swings in an overall steady market mean the higher risk and reward profile of active investing could be attractive to former "buy and hold" investors.  There is no need for a radical transition in investing style.
Perhaps the most important aspect of active investment is knowing to buy when the market is down, and sell when it's up. This is simple to write, but harder to put into practice, so investors may start carefully. Where the market is up strongly, start by selling some stocks, or a portion of holdings in a stock. Alternatively, sell Australia 200 Index CFDs or buy put options, partly covering the portfolio. If the market falls, investors can take profit on their hedge positions and deploy cash into their favoured companies, preparing for the next upswing.