After rolling and relentless selling over the first two months of the year, share markets around the globe are stabilising. The main fears – China implosion, oil inspired deflation, a resource inspired banking crisis – have simmered lower as hard data contradicted the bear stories. Shares are higher, industrial commodity prices are up, bonds are under pressure.
The recovery in share prices brings the Australia 200 index back to the middle of a trading zone.  The chart below illustrates an inner trading range (between 4,900 and 5,300) and two outer ranges, above and below the inner range, labelled "action zone".
How investors act as the index hits these "action zones" will likely determine their investment performance for the year.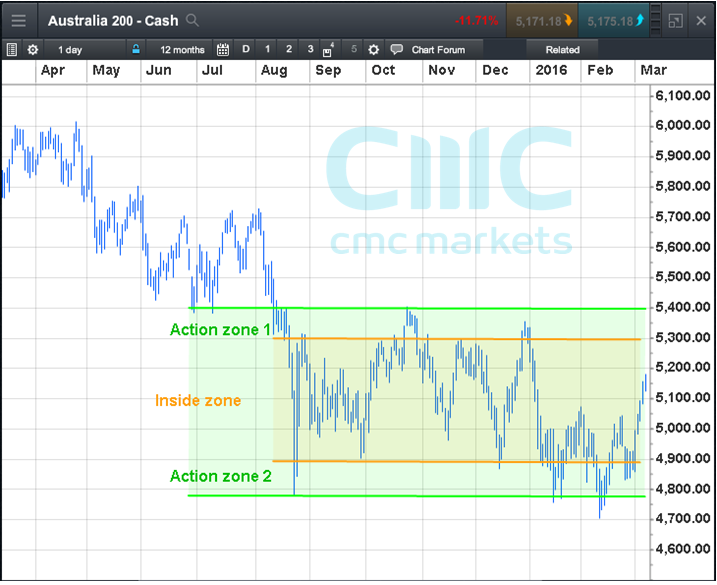 How? The central thesis is that markets will trade broadly sideways over the year, with a mildly positive bias. As central banks around the globe pull in different directions  the money flows driving asset prices globally become choppier, leading to increased volatility. Rallies on improving economic data could be met by volatility induced panics.
In other words, stocks could swing wildly this year, and at various times it will look like good days have returned or that the end of the financial world is coming. This could see the Australia 200 index swing between 4,900 and 5,300 a number of times.
How do investors increase returns in this scenario? One response is to take an active, contrary approach, but this is easier said than done. It was hard to go against the herd and step up and buy when everyone was talking market doom just one month ago. However, those waiting for "clear signs" of a recovery before buying might be edging into the market now, after the market rallied 8%. If the rally peters out somewhere between 5,300 and 5,400, those investors have missed out on the bulk of the gains.
And that's the concern. If the market acts as I expect, rewards will go to those investors who have shares to sell into the rally, not those who are buying near the top.
The key question for investors is – what will you do when the market hits either action zone?
In action zone 2 (4,800 to 4,900), ideally investors could:
Buy stock.
Buy index and/or single stock call options to benefit from rising stocks.
Sell single stock put options, to either receive premium income or buy discounted stock.
Buy single stock cfds to replace with physical at a later time.
Buy index cfds to benefit from leverage over a broad market rise..
Naturally, there is always a risk that a panic can develop and a market fall further than expected. Investors increasing exposures in action zone 2 must be aware of the potential risk, especially if leverage is involved.
The most important aspect is that this is NOT where investors want to sell stock or move to protect portfolios – buying high and selling low does not a profit make. Investors "caught" or concerned about deeper falls can hedge and usually do least damage in most scenarios through buying put options.
In action zone 1 (5,300 to 5,400), ideally investors would:
Sell stock.
Buy put options to benefit  from a falling stock or market (hedge).
Sell call options to receive premium income or sell stock at higher levels.
Sell single stock cfds. This allows investors to hold their shares (no crystallisation for tax purposes) and collect dividends while protecting against falling share prices.
Sell index cfds to offset losses on a portfolio should the market fall.
The important thing, once again, is to avoid buying at these levels – at least for any early tests of these levels. The market will  rise through this level at some stage, but my view is we will see several pullbacks before the market can push higher. Being positioned to sell in action zone 1 is a key part of my investment strategy for 2016.