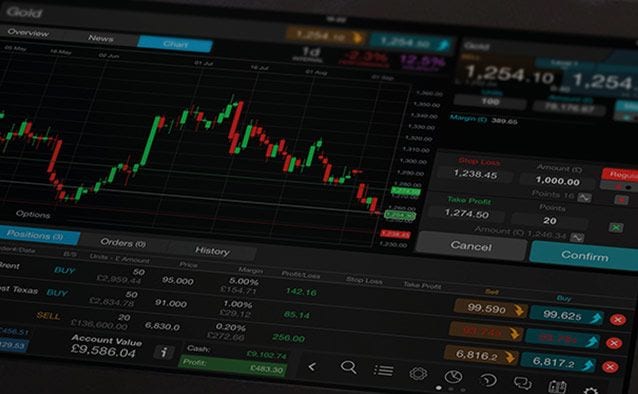 Assessing a market's overall trend and momentum and using this to guide your strategy is a regular theme for our blog.
Now that the index has fallen about 10%  since mid-May high, I've outlined my thoughts on where things stand both from both a technical and a valuation point of view and what this might mean for trading and investment strategies.
 Valuation - no longer expensive but not yet compelling
The chart below shows forward Price Earnings valuations for the S&P/ASX 200 index based on the current calendar year. At the moment it expresses the index as a multiple of analysts' earnings estimates for all the companies in the index over calendar 2013.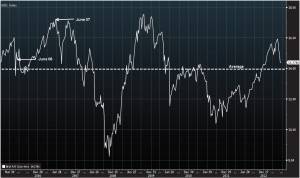 Source: Bloomberg
Click to enlarge
Here are some historical comparisons to get a bit of a historical bead on this
Currently about 14.4 times
Average over the past 7 years has been about 14 times
June 2006 14.6 times
June 2007 17.2 times
I have included June 2006 and 2007 in the list because they are at the same time of the year and pre GFC.  Risk assessments pre GFC may have been a bit lower but interest rates were also higher.
Broadly, then the current PE of 14.4 seems pretty close to fair value in my view. However, it's not yet at a level that looks compellingly cheap, especially if allowance is made for the possibility of some downgrade to earnings estimates in a sluggish post mining boom economy.
So from a strategy point of view, we have arrived at a level that might be close to the end of the correction in a low interest rate environment with shallow corrections. But we're not yet at levels that look "good buying" for those with a bargain hunting approach.
Daily Chart
 The technical outlook seems to fit with the valuation scenario.
We appear to be correcting the move from 3981 to 5249 and have now moved just below both the 38.2% retracement level and 200 day moving average.
Shallow corrections often finish at the 38.2% level and we haven't yet moved far enough below either this or the 200 day moving average to represent a convincing break below support.
That said, the move down since mid May has been pretty much a one way affair. It looks very much as though it might be the first leg down in a more complex correction. In this scenario we could soon be in for a corrective bounce before another leg down.
A more typical finishing point for deeper, more complex correction would be in the 50-61.8% retracement zone. This would see the index PE back into the 13.5-14.0 area. Given current interest rates, this would be starting to look pretty attractive in my view.  I've labelled this as the "value zone" on the chart.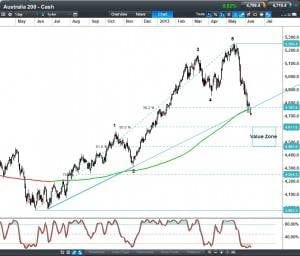 Australia 200 CFD
Click to Enlarge
Strategy
If you see the market this way, then your approach is likely to be dictated by the time frame within which you operate.  Here are some examples as I see it.  As this is a big picture look at the market I've left very short term day trading type strategies out of the mix below
Short term swing traders operating on moves of 3-5% might now be looking for buy set ups in either CFDs or stocks
Medium term swing traders, operating on a 10-15% framework might be prepared to sit out of any short term rallies seeing them as a potential sell set ups for a possible final leg down to the value zone
Longer term traders more likely to hold positions over several months might be prepared to sit back and look for buy set ups if we reach the "value zone"
Investors might be prepared to buy progressively from here on down into the value zone depending on how underweight equities they currently are.