The underlying ASX 200 index has made a lower high and a lower low today. Provided it doesn't rip higher overnight, the Australia 200 CFD will do the same.
This will be the first time Australia 200 has made a lower high and low since 16 December.  By definition, that ends the short term uptrend beginning on that date.
At this stage, the straight forward assumption would be that we are now correcting this short term uptrend. This development would still be consistent with a strong; impulsive medium term uptrend. All trends correct and a short term correction would not be a big deal.
However, if we move below the last short term peak at 5596, we may be in for something more significant. For example, either a correction of the rally that began on 5 December, or of the whole move from the US election on 9 November.  Moves below previous peaks are often a sign of weakness suggesting, as a minimum, that an uptrend has lost its strong impulsive behaviour.
If this is simply a correction of the short term trend, the Fibonacci retracement levels may be worth keeping an eye on as possible turning points. The 38.2% retracement is around 5706 and the 61.8%, is at 5631.
US 30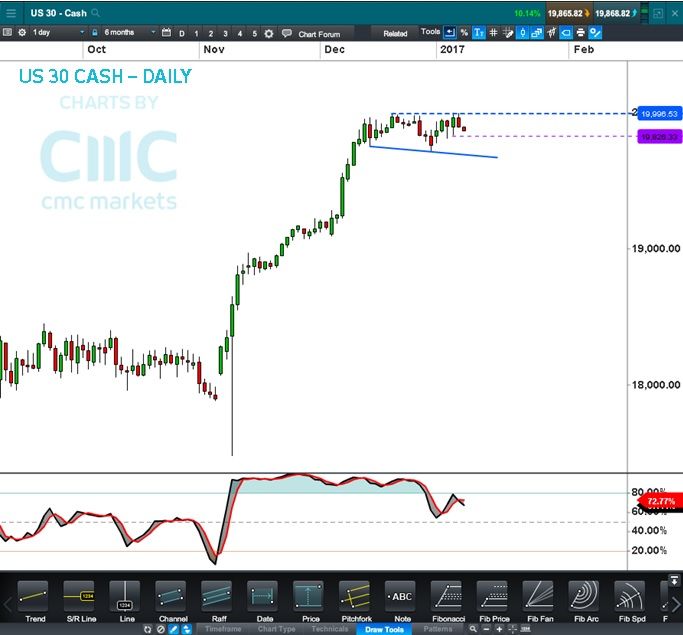 While talking indices, I'm interested to see the US 30 also showing signs of rejecting resistance. From here, this would be confirmed by a move below 19,833. That would see US 30 making lower highs and lows.
I discussed this set up in my post on 4 January; "US 30 –high valuations meet chart resistance".  A lower high and low now would represent rejection of the resistance setting up for a possible return to the pattern support or a break below it for a deeper correction.